New Type of CMT May Be Treatable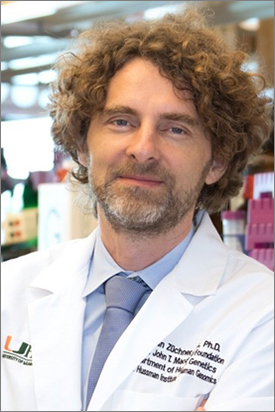 A team led by Dr. Stephan Züchner at the University of Miami has discovered a new type of Charcot-Marie-Tooth (CMT) disease that may be treatable with drugs already approved for other diseases. Züchner's team, including Drs. Andrea Cortese, Grace Zhai, Adriana Rebelo and many others, found that mutations in the SORD gene cause an axonal form of CMT that is recessive. This study was substantially supported by the Inherited Neuropathies Consortium led by Dr. Shy in Iowa.
Researchers think that at least 3,000 – 5,000 people in the United States—and more than 60,000 worldwide—have this type of CMT, making it the most common recessive form of the disease.
Dr. Züchner believes that drugs approved for other diseases that target the SORD gene may show promise with CMT. If so, it would be possible to accelerate the clinical trial timeline and skip straight to Phase 2 since the drugs have already gone through Phase 1 testing for other indications.
"We congratulate Dr. Züchner on such a remarkable discovery for our community and are proud to have supported this work thanks to a major donor," said Amy Gray, CEO of the CMTA.
"This is a remarkable discovery only possible due to large scale genomic data aggregation from volunteering CMT patients," said Dr. Züchner. "We are currently looking to screen undiagnosed CMT patients to identify as many patients as possible in preparation of clinical trials."
If you are interested in such screening and want to be contacted in the near future, please click here to fill out a Patients as Partners in Research profile. The criteria for screening are: 1) you have received a diagnosis of CMT, but genetic testing did not reveal with certainty the responsible gene; 2) your parents never had CMT symptoms.
We expect that a specialized study will be available sometime in the next several months through the team at the University of Miami and the Inherited Neuropathies Consortium.