Like many parents of children living with CMT, Tracy supports the CMTA because of the support and services they provide as her family navigates the complexities of the disease that affects 5-year-old Evelyn.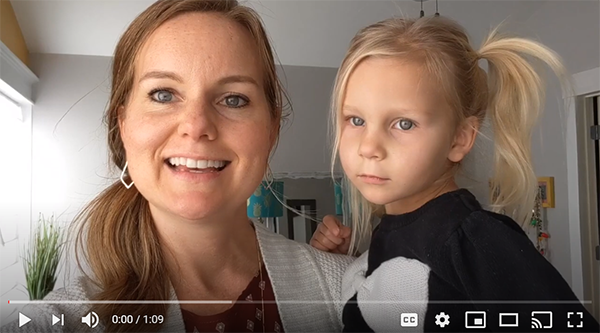 Who inspires you to give? Your mother or father? Son or daughter? Niece or nephew? Maybe it's your own hope for a future without pain, without braces, without limitations.
There's no shortage of inspiring stories in the CMTA community. That's what drives us at the CMTA to work harder, longer and smarter, through good times and bad.
Tracy Smith is inspired to give by her daughter Evelyn, who was diagnosed at the age of 3, and by the support the CMTA provided her family. "Having a rare disease that hardly anyone is even aware of can be very isolating. You feel like no one truly understands what you are going through and you have so many questions that few can answer. So it was a huge blessing for us to connect with the CMTA community."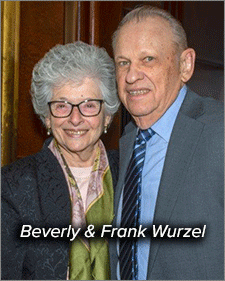 Beverly Wurzel, leader of the Westchester NY CMTA Branch, says that seeing the CMTA's research progress and knowing that she is leaving a legacy and contributing to a treatment/cure inspires her to give.
Under the CMTA's Strategy to Accelerate Research, or STAR, virtually every type of CMT is covered by an active research project—including some unknown variants. Cross-type initiatives have the potential to benefit everyone, no matter their type or the severity of their cases.
To give just one example, axonal loss is the final common pathway of all forms of CMT. We have identified specific genes that stabilize axons and prevent their degeneration and we anticipate that drugs preventing axon degeneration may eventually be broadly applicable to multiple CMT subtypes, even for rarer forms and those without genetic diagnosis.
Whether you're inspired to give by our extensive community services or by our relentless research efforts, we ask that you give generously to support the CMTA and STAR. As one of our members sums it up: "Hope is what inspires me to give."
Inspired by CMTA STAR Research
The CMTA's Strategy to Accelerate Research, or STAR, has been a beacon of light and hope for the CMT community since 2008. Its unique approach is built on collaboration: It connects our world-renowned STAR Advisory Board to pharmaceutical, biotechnology and research service companies that are pursuing therapy development.
STAR Research Agenda for Demyelinating Forms of CMT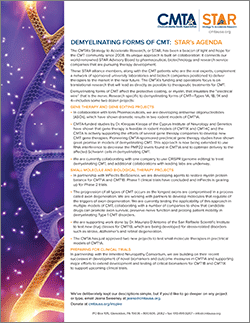 STAR Research Agenda for Axonal Forms of CMT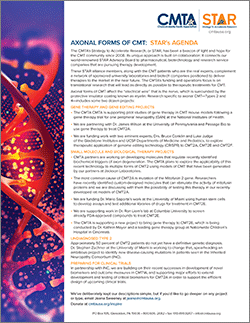 "Hope is what inspires me to give."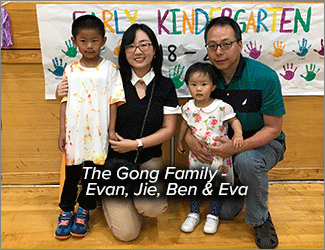 "I hope that one day Evan will know something different. That he will run and play sports like other boys. Hope is what inspires me to give."
– Evan's mom, Jie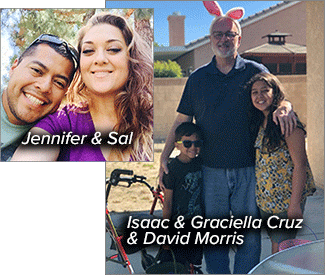 "Our family is motivated, inspired and uplifted by the crucially important mission forged by the CMTA. This organization is working tirelessly to turn dreams into real progress. A cure is "one step" closer with our support!
– Jennifer Cruz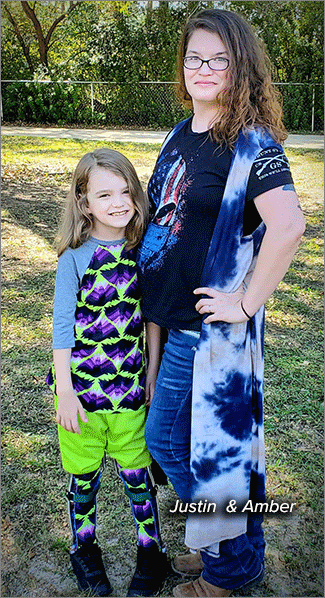 "My 9-year-old son Justin is who inspires me to give to the CMTA. He is the light of our life and we donate so one day he has a cure.
– Justin's mom, Amber