– Partnership reinforces collaboration to raise awareness and support for CMT patients –
– Focused approach includes preclinical research –
GLENOLDEN, PA – July 26, 2018 – The Charcot-Marie-Tooth Association (CMTA), a patient organization focused on supporting the development of innovative medicines for Charcot-Marie-Tooth (CMT) disease, today announced a strategic partnership with Acceleron Pharma, a Cambridge-based biopharmaceutical company dedicated to developing medicines to treat serious and rare diseases, including CMT.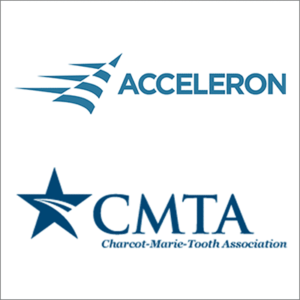 The CMTA's Strategy to Accelerate Research (STAR) connects top CMT clinicians and academic researchers with pharmaceutical partners committed to developing treatments, and ultimately, a cure for CMT. Strategic alliances with corporate partners like Acceleron support innovative drug development with a goal to rapidly deliver therapies to CMT patients.
"We are excited to establish this partnership with Acceleron as they work to advance their lead neuromuscular therapeutic candidate, ACE-083, through an ongoing Phase 2 trial in patients with CMT," said CMTA's CEO Amy Gray. "Strategic research partnerships with great companies are proof that the work done by CMTA researchers is paramount to understanding the disease and developing innovative medicines. In the 10 years since establishing the program, STAR has generated important findings for advancing the science of CMT and attracting pharmaceutical companies to work on CMT. We share Acceleron's enthusiasm and passion for developing life-changing treatments for patients."
The partnership with Acceleron will include preclinical research and close collaboration with the broader CMT community through the CMTA's Patients as Partners in Research initiative aimed at raising awareness for the thousands of patients living with CMT.
"It's a privilege to partner with the CMTA in this important initiative, as our missions are in complete alignment," said Ravi Kumar, Ph.D., Chief Scientific Officer of Acceleron. "Both organizations are deeply committed to scientific innovation, but developing transformative therapies cannot occur within the vacuum of a laboratory setting. Ongoing input from the patients we're working to help is essential for success in these pursuits, and this arrangement will help ensure that CMT patients are heard."
The partnership will seek to incorporate the voice of the patient in drug development and future clinical trials through patient initiatives such as focus groups and surveys.
Acceleron recently announced positive preliminary results from Part 1 of the Phase 2 clinical trial with ACE-083 in patients with CMT.  You can read more about the results here.