SORD
Every year more types of CMT are identified by STAR researchers, but there are many left to discover. The CMTA is helping to identify the genes that cause CMT by supporting work led by Dr. Stephan Züchner of the University of Miami.
Identifying mutations is an important first step in the process. Even for rarer types of CMT, some of the advances in the eventual treatment of axon degeneration may be applicable as these therapies are developed.
If your type is not yet identified, please visit a CMTA Center of Excellence to share your DNA with our STAR database to accelerate the pace of discovery. If you haven't had genetic testing to learn what type of CMT you have, please visit the genetic testing page to learn more.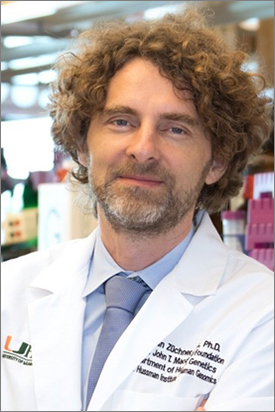 University of Miami researchers led by Dr. Stephan Züchner have discovered a new type of CMT that may be treatable with the same drugs used to reduce elevated sorbitol in people with diabetes.
The initial discovery was made by Andrea Cortese, MD, and Adriana Rebelo, PhD, who worked with a large group of CMT2 families convened by the Inherited Neuropathy Consortium, with support from the National Institutes of Health, the CMTA and many others.
The newly discovered type is caused by a mutated SORD (sorbitol dehydrogenase) gene that raises sorbitol levels so high they cause nerve damage. Researchers found that treating fruit flies with a diabetes drug (aldose reductase inhibitors) reduced their high levels of sorbitol to near normal.
An estimated 3,000–5,000 people in the United States—and more than 60,000 worldwide—may have this type of CMT, making it the most common recessive form of the disease. Dr. Züchner and his colleagues are looking to screen undiagnosed CMT patients to identify as many patients as possible in preparation for clinical trials.
"We're very optimistic about the therapy going forward," Dr. Züchner said, noting that the drug basically cured CMT in fruit flies. "This is a remarkable discovery only possible due to large scale genomic data aggregation from volunteering CMT patients," he added.
Dr. Züchner, MD, PhD, is a professor of human genetics and neurology and chair of the Dr. John T. Macdonald Foundation Department of Human Genetics at the University of Miami Miller School of Medicine. He is also a member of the CMTA's STAR Advisory Board. He and his team&*mdash;Rebelo, associate scientist at the Hussman Institute for Human Genomics, and Cortese, a visiting scholar from University College of London—discovered the SORD mutation "hidden" from the gene analysis software that most researchers use. Using a different strategy, the researchers found the relevant variations hidden behind a "pseudogene." Pseudogenes mirror the DNA sequence of their active counterparts, but have no function.
After identifying the gene, the team identified 45 individuals from 38 families who had the specific mutation. With gene and patients identified, the next step was finding the necessary animal model.
Serendipity intervened in the person of R. Grace Zhai, PhD, senior associate dean for basic science research and associate professor in the Department of Molecular and Cellular Pharmacology at the Miller School. Dr. Zhai and her colleagues were able to genetically manipulate flies to raise sorbitol levels, causing precisely the same kind of damage observed in people. The fruit flies with neuronal damage behaved differently, but when treated, showed an "amazing reversal" of their altered movements, Dr. Zhai said, adding, "This is truly remarkable. In my career I work on neurodegenerative diseases, and I've never seen such complete suppression of the phenotype. We are very excited about this."
After modeling CMT in fruit flies, the next step was to test the theory using skin cell fibroblasts from CMT patients. The team found that just as in the fruit fly model, when relevant genes were inactivated, they saw accumulation of the sorbitol and a reversal with the addition of the medication.
According to Dr. Züchner, SORD neuropathy will represent one of the first examples of a treatable hereditary neuropathy. The experience with SORD neuropathy reinforces the power of international collaborations, which can accelerate the journey from gene identification to effective treatment, he said.
"This story is really unique. Because we can measure the sorbitol, we will be able to determine effectiveness of treatments and even can determine pathogenicity of DNA variants," Dr. Züchner said. Measuring sorbitol levels in a blood sample could flag people at risk and could also help physicians monitor their response to treatment over time.
The core study team included INC members Dr. Michael Shy, MD, from the University of Iowa, and David Hermann, MBBCh, from the University of Rochester, both of whom are also on the CMTA STAR Advisory Board, and Dr. Rosemary R. Shy from the University of Iowa. Dr. Mario Saporta, MD, assistant professor of neurology at the Miller School, also participated in the study. He built and runs the premier CMT clinic in Florida and is a member of the CMTA STAR Advisory Board. "Without the support of the Inherited Neuropathy Consortium and the CMTA, this work would not have been possible," Dr. Züchner said.
If you are interested in being screened for this new type and want to be contacted in the near future, please click here to fill out a Patients as Partners in Research profile. The criteria for screening are: 1) you have received a diagnosis of CMT, but genetic testing did not reveal with certainty the responsible gene; 2) your parents never had CMT symptoms.