Following us on social media is also a way for you to instantaneously connect with thousands of people who have CMT. It's a valuable opportunity to share and to learn.
CMTA Facebook Groups
Join one or more of our increasingly popular Facebook groups!
CMTActive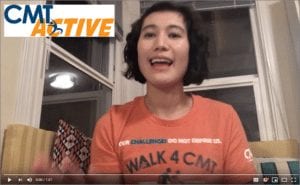 We invite you to join this community focused on encouraging, inspiring and cheering one another on to fight CMT through movement.
CMT can slow us down and make movement difficult. Regular physical activity not only helps maintain active muscle mass and slow down the effects of CMT, but also increases mood and lowers stress.
Being CMTActive is a lifestyle and mindset. CMTActive means taking small steps each day to better your physical health. CMTActive means finding and adapting the sports and activities that you love, cherishing your body and giving it the support and care it deserves to take control over CMT. Get started today!
Charcot-Marie-Tooth Association
When you join this CMTA Discussion Group, you connect with a world-wide community of others impacted by CMT. People contributing include those with CMT, those seeking diagnosis, plus family, friends, and care-givers who love and support people with CMT. We hope by sharing ideas, support, resources, knowledge, and experiences it will help everyone coping with CMT.
Asociación de Charcot-Marie-Tooth para Español
En este grupo "Asociación de Charcot-Marie-Tooth para Español" puedes encontrar una comunidad mundial de otras personas afectadas por CMT. Las personas que contribuyen incluyen aquellos con CMT, aquellos que buscan un diagnóstico, además de familiares, amigos y cuidadores que aman y apoyan a las personas con CMT. Esperamos que al compartir ideas, apoyo, recursos, conocimientos y experiencias, ayude a todos a sobrellevar la CMT.
CMTA Parents
A group for parents of children with CMT in which to share, support, and make a difference!
CMTA Youth Group
The CMTA Youth Group is for our teens and young adults between the ages of 13 and 21 who have CMT. It is our hope that this group will be a free forum for discussion, ideas, and support.
"Like" and "Follow" Us
"Likes" and "Followers" dramatically improve our ability to reach people with CMT and raise awareness in the general public. You can help us spread the word by clicking on the social media icons below and connecting with us. Thank you for your help!
Podcast
CMT 4 Me Podcast
CMT 4 Me is an emotional, heartfelt, and humorous podcast for the 3+ million people who have CMT (Charcot-Marie-Tooth disease), their friends, family, and the general public.
CMT 4 Me provides a platform for people with CMT to have a voice, describe challenges, find ways to overcome those challenges, and share successes. Another goal is to spread CMT awareness and unite as a community.
The CMT 4 Me podcast releases every 3 weeks, and will cover research updates, fundraising, unique stories, interviews with the CMTA community, including board members, branch leaders, and CMTA team members.
Hosts:
Chris and Elizabeth Ouellette
Have a story you'd like to share? Write to
info@cmtausa.org
. You may be our next guest on the new CMT 4 Me podcast!