fast and cost-effective pre-clinical evaluation of therapeutics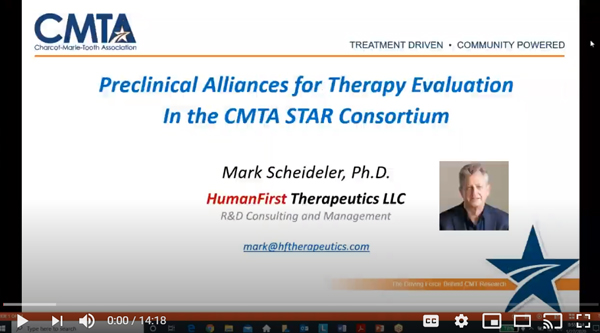 The Bio International Convention is one of seven major international conferences at which CMTA CEO Amy Gray or Therapy Expert Board Chair Mark Scheideler presented the CMTA's STAR program.
The CMTA STAR (Strategy to Accelerate Research) Consortium was launched as a means to facilitate collaboration and accelerate therapy development for scientists, clinical researchers and pharmaceutical companies working on Charcot-Marie-Tooth neuropathy disorders.
To achieve this objective, the CMTA set out to assemble "toolboxes" for different CMT disorders that allow fast and cost-effective pre-clinical evaluation of therapeutics in models of the disease. These disease-specific toolboxes include well-validated animal models of disease and patient-derived stem cells. This capability allows proof-of-principle testing of the role of a therapeutic target in the disease process, and of the ability of a therapy directed to this target to arrest or even reverse the pathology. These drug efficacy studies are a critical prerequisite to advancing a therapy candidate to human testing aimed at showing the approach will have value to a patient.
Key features of the pre-clinical therapy program include:
Toolboxes developed or currently under development for CMT1A, CMT1B, CMT1X, CMT2A, CMT2E:

Drug profiling assays: a broad animal test panel that includes drug exposure (PK), tolerability, marker analysis, target engagement, motor behaviors (gait, balance, grip, and sensory testing), electrophysiology, and histology.
18 different patient stem cell lines: CMT1A, CMT1B, CMT1X, CMT2A, CMT2E, CMT4J.
Animal models: CMT1A (mouse & rat), CMT2A (2 rat models), CMT2E (mouse), CMT1B (3 mouse models), CMT1X (4 mouse models under development).
Models either created or licensed at very preferential terms to allow unencumbered drug profiling use by participants in the CMTA STAR consortium.

A straightforward and rapid process to establish and develop a working alliance as a member of the CMTA STAR consortium. The disease models and partner testing services are available under various agreement models.
A broad CMT and pharmaceutical network of more than 30 experts providing model development and advice via the Scientific Advisory Board, Therapy Expert Advisory Board, and Clinical Advisory Board. See the full list of advisors at: www.cmtausa.org/research/star-advisory-board/. Single point of contact for agreements. Expert services for study planning and project execution offered at cost.
Therapy evaluation via a network of leading CRO's (Contract Research Organizations), expert in different elements of the breeding and testing processes, and with sponsored investigator laboratories.
Fast and cost-effective testing of small molecules, genetic therapies and biologicals.
Alliance experience with more than 30 pharmaceutical, biotechnology and service companies, spanning from early discovery stage to clinical candidate selection. See a listing of publicly disclosed partners at: www.cmtausa.org/our-research/for-researchers/strategic-partners/.
Agreements in place with top university groups that reflect the key STAR business principles: low overhead costs, accountability and collaboration.