CMT1B
This CMT subtype is caused by mutations in the Myelin Protein Zero (MPZ) gene. Scientific Advisory Board members Drs. Michael Shy, Lawrence Wrabetz, and Maurizio D'Antonio are experts in this area. In partnership with InFlectis BioScience, we are engaged in further testing of a novel molecule called Sephin, which has shown dramatic improvement in the S63del mouse model of CMT1B. Additional drugs aimed at other targets in the same pathway have been developed for other disorders, such as stroke, Alzheimer's and retinal degeneration, and these are being tested in the CMT1B models.
Also, we now have mouse models of all three major clinical presentations of CMT1B. In the late onset type, we are testing (using the T124M mouse model) how inhibiting axon degeneration pathways can stabilize motor and sensory neurons, an approach which is the focus of pharmacological development by many of our partner companies. This will be the first test of such pathways in a CMT model, and it is possible that this approach may have broad applicability to other types of CMT.
Below we share with you the research projects the CMTA is currently funding for 1B as well as a description of the remarkable STAR Biotech Alliance Partners with whom we collaborate to advance research for CMT.

View the projects currently active or recently completed in the CMT1B drug development pipeline.
PROJECT GOAL: IMPROVE THE PROTEASOME FUNCTION TO TREAT CMT1B


Grant Amount: $204,785
Principal Investigators: Laura Feltri, PhD, University at Buffalo; Lawrence Wrabetz, MD, University at Buffalo; Jordan VerPlank, PhD, University at Buffalo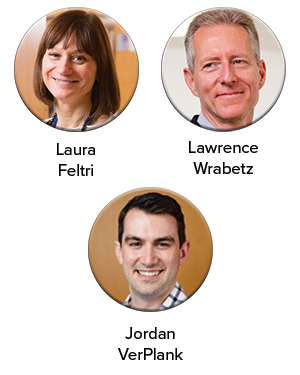 Previous work has shown that that the accumulation of mutant myelin protein zero protein in CMT1B causes an unfolded protein response (UPR) which leads to the onset of symptoms of the disease. While other approaches to resolve the UPR are in testing (and clinical trials for CMT1A), the Feltri/Wrabetz laboratory has developed a strategy to eliminate the mutant protein by activating the proteasome function.
Approved drugs that have been developed for hypertension and erectile dysfunction are available for testing this strategy. Based on positive results obtained in a short pilot trial in a CMT1B mouse model, this research project will test two other drugs with more optimal pharmacology. Dr. Feltri will use short term studies of the two drugs to establish optimal dosing, and then she will perform a longer efficacy trial. This approach will also be tested in a CMT1A model in parallel to see if these approved drugs could have some benefit for CMT1A.
PROJECT GOAL: TO BETTER UNDERSTAND MECHANISMS OF AXONAL DEGENERATION IN LATE ONSET CMT1B NEUROPATHY AND IDENTIFY/TEST THERAPEUTIC APPROACHES


Grant Amount: $249,897
Principal Investigators: Maurizio D'Antonio, PhD, Ospedale San Raffaele, Milan; Lawrence Wrabetz, MD, University at Buffalo; Laura Feltri, PhD, University at Buffalo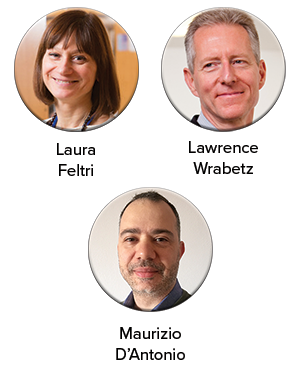 To better understand the mechanisms that lead to pathology in POT124M and to identify and test new therapeutic strategies to counteract axonal degeneration, the investigators have three specific aims. They will:
Determine if T124 mice recapitulate the full spectrum of CMT2J by studying pupillary and vestibular impairment and analyze images obtained by 3-dimensional electron microscopy to better understand the non-compact myelin and axonal mitochondria ultrastructure defect caused by the POT124M mutation.
Determine if genetic and pharmacological modulation of SARM1 rescues the axonal degeneration observed in T124M mutants.
Dissect the molecular mechanism of axonal degeneration involved in CMT2J to find new therapeutic targets.
PROJECT GOAL: DEVELOP AND CHARACTERIZE CMT1B BIOMARKERS AND OUTCOME MEASURES


Grant Amount: $529,971
Principal Investigators: Michael Shy, MD, University of Iowa; John Svaren, PhD, University of Wisconsin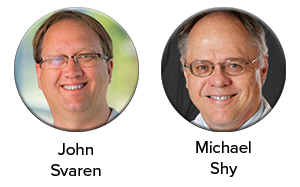 In order to prepare for clinical trials for CMT, there is ongoing work to develop more sensitive outcome measures, and there is a need for complementary biomarkers, particularly target engagement measures that can be used in clinical trials for candidate therapies. Drs. Shy and Svaren will characterize CMT outcome measures in cross sectional and longitudinal studies of 60 subjects with CMT1B and develop and characterize biomarkers for CMT1B.
PROJECT GOAL: MODULATION OF THE IRE1A/XBP1 AND ATF6A BRANCHES OF THE UPR FOR THERAPEUTIC INTERVENTION IN CMT1B NEUROPATHY


Grant Amount: $104,885
Principal Investigator: Maurizio D'Antonio, PhD, Ospedale San Raffaele, Milan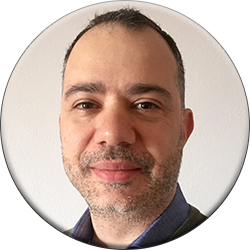 Dr. D'Antonio will verify if compounds specifically activating the Ire1a-mediated Xbp1 splicing can ameliorate myelination in CMT1B dorsal-root-ganglia (DRG) explants and explore the role of ATF6a in neuropathy and test molecules able to modulate the ATF6a pathway in myelinating DRG explants from CMT1B mice.
PROJECT GOAL: 1A/1B TARGET VALIDATION


Grant Amount: $88,889
Principal Investigator: Luigi Puglielli, MD, PhD, University of Wisconsin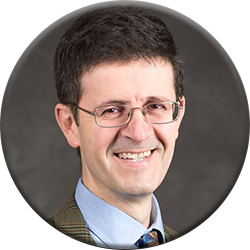 Dr. Puglielli will conduct genetic, cellular and pharmacologic tests to validate this target. His goal is to determine whether ATase inhibition can rescue the CMT-associated phenotype and to determine the specific translational role of ATase1 and ATase2.
InFlectis BioScience
InFlectis BioScience, a French startup company, is working to develop a new approach to CMT1B and CMT1A. Sponsored research studies have been performed in the CMTA-STAR consortium to assess drug effects in both animal models and InFlectis is currently raising funds for clinical trial testing of the molecule in patients.
New York Stem Cell Foundation
In addition to the validated CMT animal models, the CMTA and the New York Stem Cell Foundation (NYSCF) have put together a collection of patient-derived stem cell lines for CMTs, including CMT1A. These cell lines give companies the ability to test therapies on patients' own genes, the first step to enabling a personalized medicine strategy.
Acceleron Pharma
Acceleron Pharma, a Cambridge, MA based biopharmaceutical company dedicated to developing medicines to treat serious and rare diseases, developed ACE-083, a therapeutic candidate designed to affect muscles to maximize growth and strength. Acceleron initially developed ACE-083 for disorders such as CMT and FSHD (Facioscapulohumeral Muscular Dystrophy). After Phase 2 Trials in both CMT and FSHD, Acceleron concluded studies.
Read about the Patients as Partners in Research Initiative ⟶