If you are the parent of a child who has CMT, you have come to the right place. At the CMTA, we hear from parents every day. Some have a child who has only recently been diagnosed, while others reach out with questions about school or exercise. Some are just seeking a little support. Wherever you are in your journey, we want to be part of your support team and your solution. We have compiled these resources to help get you started!
Support for You
Getting a CMT diagnosis for your child can leave you feeling out of control. You are not alone. Read The Art of Letting Go, an article by a mother who has been in your shoes.
For valuable guidance on parenting, we recommend you watch our webinar, "Parenting with Pleasure: One Mother's Perspective on Parenting a Child with CMT," presented by Elizabeth K. Misener, PhD, LMSW.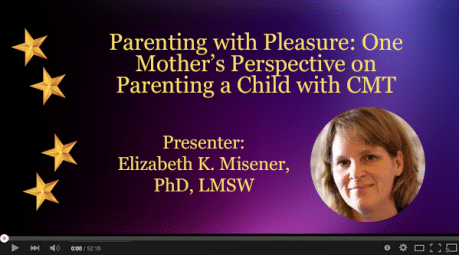 Elizabeth K. Misener, PhD, LMSW, is a licensed master social worker with New York State. She provides coaching on a wide range of issues such as depression, stress management, anxiety, life-work balance and relationships. As a trained social worker, she supports individuals on their journey of self-discovery through self-reflection and goal setting. Among Elizabeth's areas of specialization are helping people to improve relationships, reduce stress, encourage personal growth, enhance parenting skills, facilitate decision making, manage time, bolster motivation, clarify objectives, and develop concrete, attainable goals. She has been trained in the technique of Problem Solving Therapy, which is an evidence based short-term intervention for people struggling with depression.
Get Involved
Join our CMTA Parents Group on Facebook and chat with other parents in a supportive environment.
Do you want to take action and help stop CMT in its tracks? Read the following article, by a father who decided to create change for his child's future:
Parents, There is Something You Can Do: Donate to Research!
Help for School
School Supports for Children with CMT: 504 Plans and IEPs
Guide to Student Disability Protections and Plans – This comprehensive, expert-driven, and easy-to-digest guide lays out everything that students with disabilities and their parents need to know about their rights and the laws that protect them, such as the ADA, Section 504, and IDEA. Parents can also find expert advice on how to best prepare education plans for their students.
Resources for Youth
If you are between the ages of 13 and 21 and would like to connect with other kids who have CMT, join our CMTA Youth Group on Facebook. The Youth Group is moderated and maintained by CMTA staff members.
The CMTA holds Patient/Family Conferences nationwide on a regular basis and typically hosts a CMTeen Outing during the conference so kids with CMT can meet and have fun with their peers. Check our events schedule for a conference or CMTeen outing near you!
Are you getting ready to apply for college? Read our College Guide for CMTers written by college junior, Yohan Bouchard!