After all options are considered, a patient may decide foot surgery is necessary. Many patients choose to stabilize their feet or to correct progressive problems. Such procedures include straightening and pinning the toes, lowering the arch, and fusing the ankle joint to provide stability. Recovery from these surgeries can be long and difficult. Before considering surgery, a patient should always weigh the realistic potential benefits against the problems posed by surgery.
For information on orthopedic surgery for CMT, check out the following videos from expert orthopedic surgeons who spoke at CMTA conferences: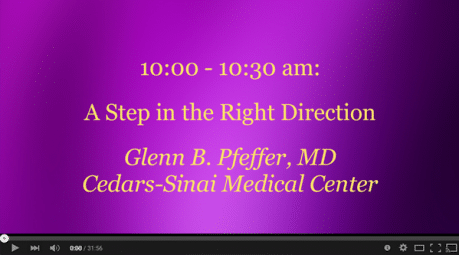 "A Step in the Right Direction" by Glenn B. Pfeffer, MD
Presented at the CMTA's 2014 CMT Patient & Family Conference at Cedars Sinai Medical Center in Los Angeles, Calif.
Dr. Pfeffer is Director of the Foot and Ankle Center at Cedars-Sinai Medical Center. He is also a Co-director of the Hereditary Neuropathy Program and Co-director of the Cedars-Sinai/USC Glorya Kaufman Dance Medicine Center. Dr. Pfeffer has written numerous scientific articles on orthopaedics and has edited seven academic textbooks on the foot and ankle. He has been treating foot and ankle problems in patients with Charcot-Marie-Tooth disease for 25 years. He is a past president of the American Orthopaedic Foot and Ankle Society, and recently served as president of the California Orthopaedic Association. Dr. Pfeffer is frequently interviewed on foot and ankle topics, and has been featured on CNN, Dancing with the Stars, Dateline NBC, Good morning America, and The New York Times.
---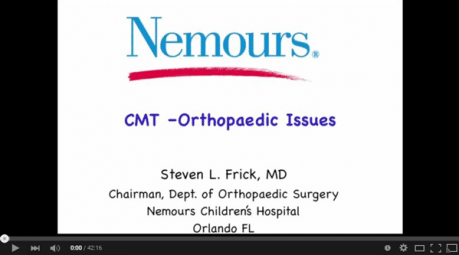 "Orthopedic Options for Treating CMT" by Steven L. Frick, MD
Presented at the CMTA's 2013 CMT Patient & Family Conference in Orlando, Fla.
Dr. Frick is a pediatric orthopedic surgeon who became the chairman of the Department of Orthopedic Surgery at Nemours Children's Hospital in July 2013, where he also serves as the Director of Medical Education. He is a Professor of Orthopedic Surgery and the Assistant Dean at the University of Central Florida College of Medicine, and Clinical Professor of Orthopedic Surgery at the University of Florida. Previously, he was the residency program director for the Department of Orthopedic Surgery at Carolinas Medical Center in Charlotte, NC. His main interests are clubfoot, pediatric trauma, hip dysplasia, growth, leadership, professionalism, and graduate medical education. He is active in many orthopedic professional societies.
---
Do you still have questions about orthopedic surgery? Read the article below and visit our Ask the Expert page under the Resource Center!