Patients as Partners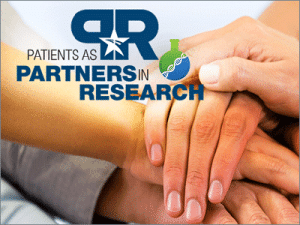 The goal of Patients as Partners in Research is to advance the work of our Strategy to Accelerate Research (STAR) and enroll the patient community in the critical work of furthering the development of treatments and ultimately a cure for CMT.
Some examples of ways you may be able to get involved in the CMTA's Patients as Partners in Research include:
Completing surveys about your symptoms and experiences with CMT
Participating in focus groups with the CMTA and our Strategic Partners in the Biotechnology and Pharmaceutical fields
Enrolling in CMTA funded research studies with our clinical and scientific partners
Joining clinical trials for which you may be eligible
We all dream of a world without CMT.  And now there are even more ways for you to get involved.  Below you will see a list of current opportunities.  That list will grow over time. Please consider building a profile and being our partner in research to help us create a world without CMT!
---
Voice of the Patient Report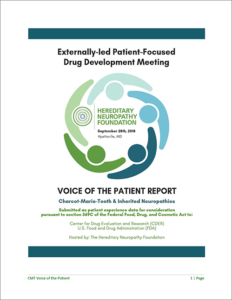 During CMT Awareness Month 2018, the Charcot-Marie-Tooth Association (CMTA) joined the Muscular Dystrophy Association (MDA) as a sponsor of the Hereditary Neuropathy Foundation (HNF), which hosted the Externally-led Patient-Focused Drug Development Meeting (PFDD) on Friday, September 28, 2018, at the College Park Marriott Hotel and Conference Center in Hyattsville, MD.
The PFDD meeting brought together patients, caregivers, industry, healthcare providers, payors, the NIH, and FDA, to understand the challenges of patients living with CMT and the unmet medical need where there are no drug treatments available. Two members of the CMTA's STAR Advisory Board, Drs. Michael Shy and Stephan Zuchner, were speakers at the event.
The HNF, CMTA and MDA collaborated on this "Voice of the Patient" report for the FDA that summarizes the input provided by patients and patient representatives at the meeting. This partnership will help ensure that therapies and treatments will address the concerns of the CMT community. Under the fifth authorization of the Prescription Drug User Fee Act (PDUFA V), these meetings were designed to more systematically gather patients' perspectives on their condition and available therapies to treat their condition.
We thank the HNF for coordinating this important meeting and the MDA for their partnership. We believe this collaboration will help accelerate research and treatments for CMT patients worldwide.