Patients as Partners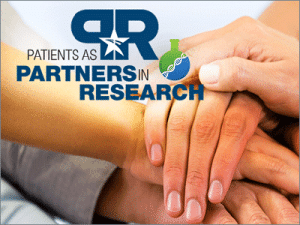 The CMTA is pleased to announce the launch of our Patients as Partners in Research initiative! The goal of Patients as Partners in Research is to advance the work of our Strategy to Accelerate Research (STAR) and enroll the patient community in the critical work of furthering the development of treatments and ultimately a cure for CMT.
Some examples of ways you may be able to get involved in the CMTA's Patients as Partners in Research include:
Completing surveys about your symptoms and experiences with CMT
Participating in focus groups with the CMTA and our Strategic Partners in the Biotechnology and Pharmaceutical fields
Enrolling in CMTA funded research studies with our clinical and scientific partners
Joining clinical trials for which you may be eligible
We all dream of a world without CMT.  And now there are even more ways for you to get involved.  Below you will see a list of current opportunities.  That list will grow over time. Please consider building a profile and being our partner in research to help us create a world without CMT!