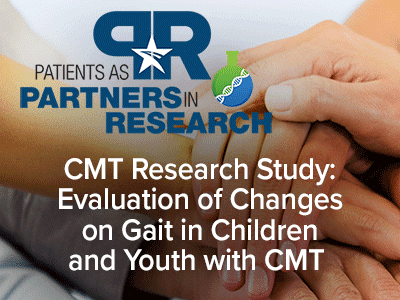 The Center for Motion Analysis at Connecticut Children's Medical Center has opened a new research study to evaluate changes on gait (walking) over time in children and youth with Charcot-Marie-Tooth Disease.
Study Methods
Each visit to the Center for Motion Analysis (minimum of one visit required, may take up to 3.5 hours) will include a clinical gait analysis and additional tests outlined below. There will be NO PAIN associated with these assessments. All data collected will remain confidential and will be accessed only by the study investigators.
3D Motion Analysis and videotape while walking barefoot and braced (if applicable)
Clinical examination measurements of height and weight, joint flexibility and muscle strength
Surface Electromyography (EMG) to assess muscle activity during walking
Foot pressure analysis to determine pressure distribution of feet while walking
Brief intake of past medical history and the participant's activities of daily living
CMT Pediatric Scale: Activities to evaluate dexterity, sensation, strength, balance and endurance
Surface muscle impedance to measure body tissue resistance
Short survey about the participant's ankle stability
Eligibility for Participation
Diagnosis of Charcot-Marie-Tooth Disease (CMT)
Between the ages of 4 and 30 years old
Able to walk independently (with or without the use of walking aids)
No additional diagnoses or deformity not related to CMT that could affect walking
Compensation
Participants will be compensated a stipend of $100 to help defray the cost of travel and time spent. All motion analysis assessments will be performed free of charge and will not be invoiced to your insurance carrier. The study results and any recommendations will be made known to you on an individual basis.
Study Location
The Center for Motion Analysis
at Connecticut Children's Medical Center
399 Farmington Avenue, Farmington, CT 06032
If you are interested in participating in this study, please contact Sylvia Õunpuu at 860-837-9201.