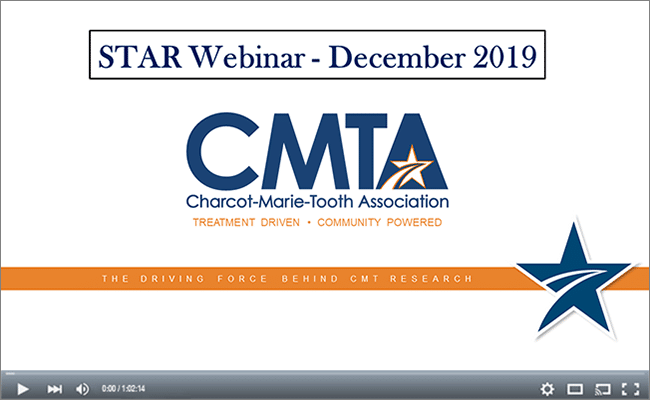 Our most recent webinar, the December 2019 STAR Update, provides an in-depth look at the exciting advances in CMTA STAR research. You'll hear directly from CMTA Board Chair Gilles Bouchard, who will give an overview of the changes that have taken place in our STAR approach since we have attracted and entered into collaborations with partners in the pharmaceutical industry, and from Drs. John Svaren and Kleopas Kleopa, two of the world-class CMT researchers on our Scientific Advisory Board. The doctors will discuss how the revolutionary advances in gene therapy apply to CMT and how our STAR research projects are meeting the challenge of advancing those therapeutic strategies into clinical trials for people with CMT.
(In addition to gene therapies, we have many more research projects underway. For an overview of all CMTA-sponsored research projects under STAR, please click here.)
---
Beginning with "Everything You Wanted to Know About CMT and More," a webinar presented by Dr. Michael Shy during CMT Awareness Month 2013, the CMTA has been conducting webinars intended to inform and educate everyone about CMT.
Our presenters have been covering a wide variety of topics, but if you have a suggestion for a particular topic, please email info@cmtausa.org and let us know. Thank you, and we hope you enjoy the presentations.
---
Upcoming Webinars
There are no webinars scheduled at this time.
If you have a question regarding upcoming webinars, please email us at info@cmtausa.org.
---
Previously Recorded Webinars
Previously recorded webinars can be viewed using by clicking on the images below:
---
---
---
---
---
---
---
---
---
---
---
---
---
---
---
---
---
---
---
---
---
---
---
---
---
---
---
---
---
---