Upcoming CMTA Patient/Family Conference November 2021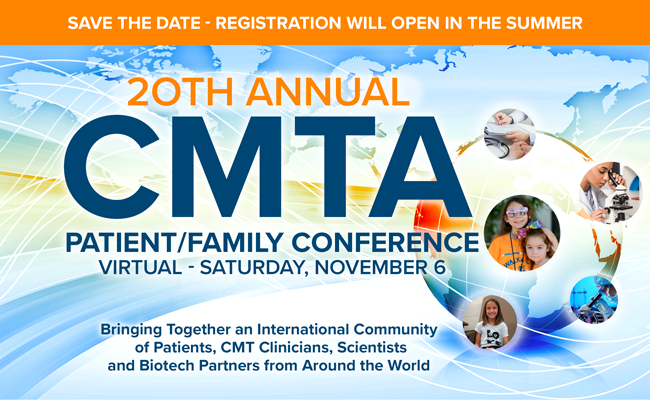 Join us for the 20th Annual conference where we will bring together patients from across the globe, world class CMT clinicians, scientists, and biotech partners. Learn more about CMT and the most recent scientific breakthroughs in our CMTA-STAR research program. Hear about the latest resources in managing your CMT symptoms. Get involved and be a part of our global community that is helping accelerate research for a cure!
Please SAVE THE DATE and join us on Saturday, November 6. Registration, agenda and speaker line-up information coming soon. Stay tuned!
About CMTA Patient/Family Conferences
The Charcot-Marie-Tooth Association generally organizes two or three CMTA Patient/Family Conferences per year, often in collaboration with a CMTA Center of Excellence or multi-disciplinary CMT clinic.
These all-day conferences allow people with CMT and their families to get up-to-date information on the CMTA's Strategy to Accelerate Research (STAR) from the scientists leading the effort to find treatments for CMT, and they also feature presentations from local clinicians and health care providers on topics such as the causes and diagnosis of CMT, physical and occupational therapy, orthotics and bracing, orthopedic surgery, genetic counseling, and more.
For those of you who haven't been able to attend a conference, and for those who have attended and would like to watch the presentations again, the CMTA is also making video and other conference materials available so that everyone may benefit from them.
For more information about conferences, please contact Laurel Richardson, Director of Community Outreach, Laurel@cmtausa.org.
Previously Recorded Conference Video

---
---
---
---
---
---