The Importance of Physical Activity
Although there is no cure for CMT at the present time, there are many therapies that can greatly improve life and function for CMT patients. The general advice for patients seeking assistance is to look first for the least invasive way to correct their problems. There are many questions regarding exercise and CMT. Advisory Board members Amy Warfield and Sabrina Paganoni both believe that the right amount and types of exercise are critical to CMT. Click here to read more from Dr. Warfield or click here to read more from Dr. Paganoni.
It is important for people with CMT to maintain what movement, muscle strength and flexibility they have, but it is impossible to build up muscles already atrophied by CMT, so the best program works on strengthening unaffected muscles that can help do the work of those that have atrophied because of CMT. Hence, physical therapy and moderate activity are recommended. Overexertion, however, should be avoided. A physical therapist can design an exercise program that fits a patient's personal strengths and flexibility. Exercises like the following that do not put undue stress on the joints are strongly recommended:
Swimming
Walking with balance walking poles – click here to learn how to this is beneficial for CMT.
Exercises you can do at home – for examples, click here to watch exercise videos with Rebekah Lee, a physiotherapist living with CMT.
Yoga
Pilates
Tai chi
Become a CMTAthlete!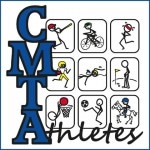 The CMTAthletes™ program is for those with CMT and their supporters alike, and those who are athletes today or who aspire to become more active. If you participate in any type of sport (walking, yoga, golf, biking, swimming, archery, etc.), the CMTAthletes program is for you!
Offering support, advice, information and enthusiasm, CMTAthletes will also help you with ideas so that you can fundraise for the CMTA through the very sports you love the most. To become a member of our vibrant community, join the CMTAthletes group on Facebook.
"Come join in on the fun by becoming a member of our team and support the CMTA!"