Clinical Expertise, Comprehensive Evaluation and Care, Information Crucial for Clinical Trials
One of the CMTA's primary missions is improving the quality of life for those with CMT and one way we accomplish this mission is by sponsoring patient-centric, multi-disciplinary CMT clinics, staffed by some of the highest quality CMT clinicians and researchers in the world. Through these CMTA Centers of Excellence, children, adults and families affected by CMT can be assured of receiving comprehensive care by a team of CMT experts.
Although all the Centers of Excellence listed below are all comprised of multi-disciplinary teams of CMT specialists, the CMTA's Centers of Excellence affiliated with the Inherited Neuropathy Consortium or INC (marked with an asterisk), go a step further by collecting and recording genetic, biologic and other data from people with the disease.
In essence, the Inherited Neuropathy Consortium is an integrated group of academic medical centers, patient support organizations, and clinical research resources dedicated to conducting clinical research in different forms of CMT and improving the care of patients. Funded by the National Institutes of Health (NIH), the INC is part of the Rare Diseases Clinical Research Network.
Over the past few years, the INC has carried out studies; identified multiple genetic causes of CMT; begun testing possible markers for CMT; enrolled thousands of patients in its studies; trained young scientists in CMT research; and created a website that provides information about CMT to patients, families and researchers. The INC's future goals include conducting further natural history studies to enable clinical trials, continuing the search for biological features (biomarkers) of disease; continuing to identify novel genetic causes and modifiers of CMT, and maintaining and updating its website to continue providing information to patients, their families, doctors and researchers. Researchers say that understanding the differences among the various types of CMT will improve the effectiveness of clinical trials and hasten the development of targeted treatments.
As the CMTA begins clinical trials for candidate therapies, data derived from these ongoing studies will become even more important. The success of these trials will largely depend on how much we know about the "natural history" of CMT—how different types of CMT progress over time and whether novel medications are slowing the course of the disease—and much of that information will be supplied by the Centers of Excellence.
If you believe that your clinic/hospital would qualify as a CMTA Center of Excellence and you would like to apply to be receive the distinction, please click here.
U.S. CMTA Centers of Excellence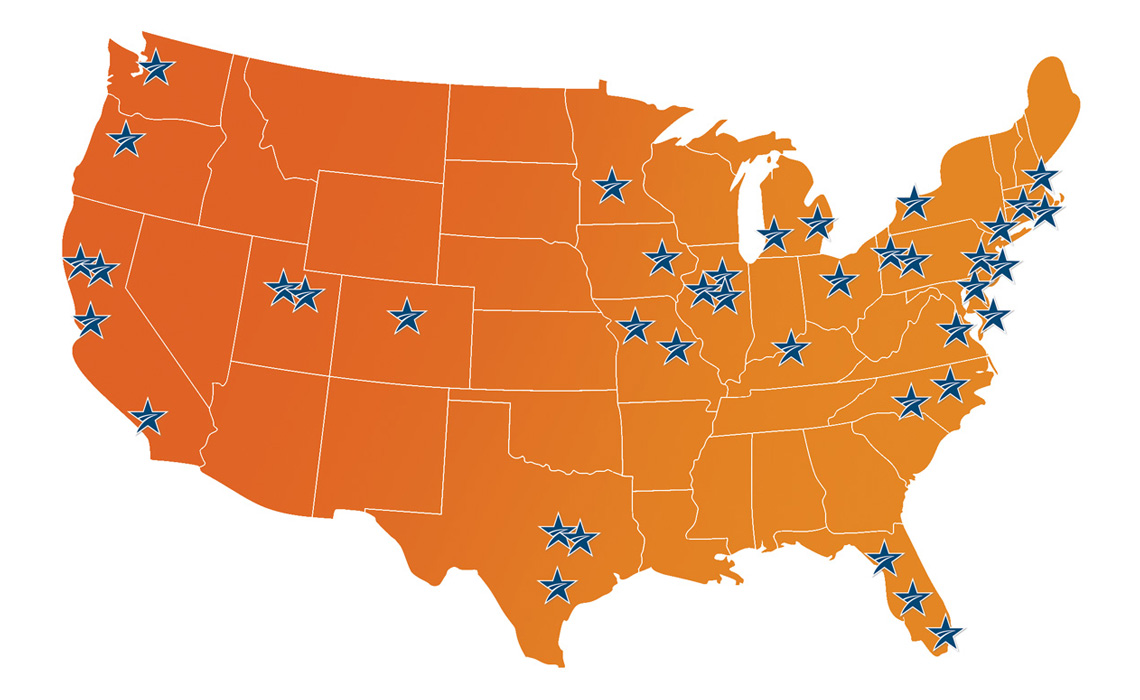 International CMTA Centers of Excellence

* Denotes the CMTA Centers of Excellence that are included in the National Institutes of Health Inherited Neuropathy Consortium (INC). The INC is co-sponsored by the CMTA and the MDA. Worldwide more than 7,000 patients with CMT have been enrolled in protocols during the past three years, and their data, de-identified to protect patient privacy, is housed in a common repository. As a result of this collaboration, a new CMT evaluation scale for children has been established, along with a new evaluation system for adults, and an infrastructure has been developed to perform natural history studies and clinical trials for CMT.