The Balance Walking for CMT Video Series demonstrates how using balance walking poles or walking sticks for balance can dramatically increase the confidence, fitness and mobility of people living with CMT.
The Benefits of Balance Walking
by Dr. Joseph Gregory Stilwell, DPM, FACFAS Imagine being a four-legged animal, using Nordic walking poles to prowl city streets with the strength and balance of a big cat on a savannah. Now imagine using Nordic walking poles to participate in yoga and Pilates. Imagine walking outside, breathing deeply, chest wide and spine lifted tall.
Those of us with Charcot-Marie-Tooth disease are used to walking a little differently. We may "lurch" when fatigued, the result of our upper bodies favoring one side or another as we walk. With a set of walking poles, though, we become rhythmic, smooth and mostly pain-free. While few of us can achieve the physical therapists' ideal of symmetry between the two halves of the body, with walking poles we can function as if our length, strength and flexibility were equal throughout our bodies. Walking poles offer people with CMT not just a way to get and stay fit, but also a training aid for walking and balance. Medical studies on "pole walking" uniformly show better breathing, less stress on joints, and other significant advantages over running, including more calories burned in less time. In a related note, evidence has been mounting that using a tempo like a simple musical rhythm helps with neurological re-training. Walking with poles at a basic metronome-like pace results in smoother nerve conduction. For urban or hard surface walking, a rubber tip can be placed on the end of each pole. This allows one to truly push into the pole, lift the spine and propel the legs forward. These high-traction rubber tips help keep one from sliding when performing a leg up stretch or pushing the body into a lifted twist using the arms and shoulders. The beauty of using two Nordic-style poles when walking is that as your legs get tired and foot drop or ankle rolling gets worse, the poles can be "push-pulled" to use the stronger muscles of the shoulders and trunk to take stress off the tired legs and feet. Plus, you can always stop and do some stretches, deep knee bends or twists with the poles to bring a spring to your step. My wife and son and I recently pole-walked through the Loop area of Chicago. It was a joy to be able to gaze upward at the tall buildings with confidence that our poles would keep us upright, stable and able to lean back to peruse the beautiful architecture. The same technique works in wooded areas or parks where we can admire the tree tops, listen to nature's sounds and even muse at the clouds—much like being a kid again. In shopping for poles, the choice is among one-, two- and three-piece poles. The cheaper poles (under $50) are probably not worth the price, unless one just wants a quick trial of the technique. Opt for the true Nordic poles with the fancy Velcro wrist strap. I find that my one-piece carbon fiber poles bend more easily when I really need them to stabilize or lift me. Adjustable multi-piece poles are easier to transport, but check for a reputable brand with good-quality locks on the adjusting mechanisms. I have not personally seen anyone injured with a collapsing pole, but one should always be on high alert for such a travesty. To learn to use poles, Foot Solutions Inc. has a Nordic walking program called Balanced Walking, which offers incentives for those wanting to teach pole walking and earn money selling walking poles and accessories. (Many of the videos online show relatively healthy people walking at a rather fast pace with poles, but these techniques may be too advanced in the beginning for anyone with CMT and associated musculoskeletal conditions.) There are dozens of wonderful teachers of Nordic walking across the United States, but nowhere near enough to meet the demand of the CMT population, much less those looking strictly for fitness or weight loss. It usually takes three hour-long sessions to become a "pro," walking with ease and grace and utilizing the poles to stand tall and swing the legs smoothly. Exercise walking? Some of us just want to increase our confidence on stairs, step gracefully over a curb or get help with a weak ankle or painful back. Nordic walking poles have a patented three-piece strap that allows the user to open the palm of the hand and push downward into the poles, lifting the rib cage and giving the lungs plenty of room for expansion. A whole hour can be spent using the poles for bending, stretching or squatting—all exercises that help with balance.
Balance Walking Company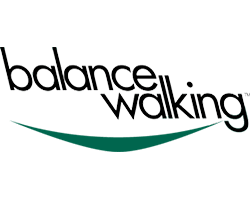 The vision of Balance Walking is to see people of all ages establish lifestyle changes based on the phenomenon known as "Balance Walking." A commitment of just 15 minutes every day to the 4 Pillars of Balance Walking will change lives, leading to a more active, younger you! Our mission is to educate and inspire people to take control and focus on prevention and a more active productive life.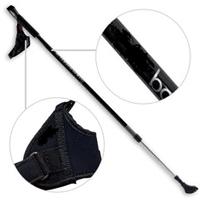 Through a partnership with the CMTA, Balance Walking will give a 10 percent discount on Balance Walking poles. With each purchase, Balance Walking will donate $15 to the CMTA! Just use CMTA as the coupon code.
Click here
to read more and get your Balance Walking poles. To learn more about Balance Walking and CMT,
click here
.