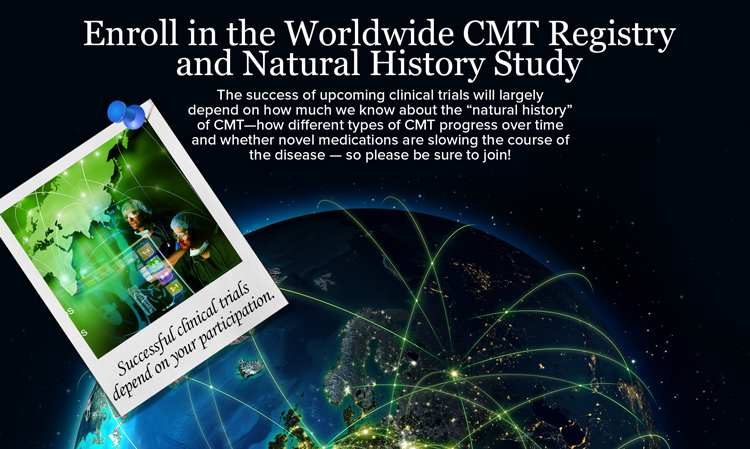 The Inherited Neuropathy Consortium (INC), which is part of the NIH (RDCRN), has established an international patient contact registry, making it possible for researchers to find new treatments, create new studies and work to improve the lives of everyone with CMT.
Enrollees in the patient registry are contacted when there are opportunities to participate in clinical trials and other research studies such as 6601: Natural History Evaluation of Charcot Marie Tooth Disease.
Enrollment in the patient contact registry is currently being facilitated through INC-affiliated CMTA Centers of Excellence. We strongly encourage anyone who wants to be considered for clinical trials to visit a CMTA Center of Excellence where people with CMT can participate in clinical research being conducted by the Inherited Neuropathies Consortium (INC) with CMTA sponsorship.
The CMTA, along with the Muscular Dystrophy Association, CMT United Kingdom, and TREAT NMD (the European Neuromuscular Network), are the partnering patient advocacy groups within the INC. The CMTA is well positioned to facilitate patient recruitment and involvement in cutting-edge research. To that end, we also encourage you to complete a CMTA Patients as Partners in Research Profile so that we can keep you informed about current research and opportunities to participate.
Some examples of ways you may be able to get involved in the CMTA's Patients as Partners in Research include:
Completing surveys about your symptoms and experiences with CMT
Participating in focus groups with the CMTA and our Strategic Partners in the Biotechnology and Pharmaceutical fields
Enrolling in CMTA funded research studies with our clinical and scientific partners
Joining clinical trials for which you may be eligible
---
Voice of the Patient Report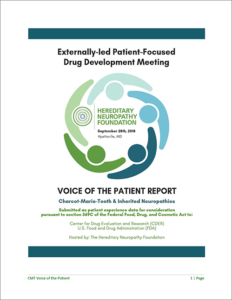 During CMT Awareness Month 2018, the Charcot-Marie-Tooth Association (CMTA) joined the Muscular Dystrophy Association (MDA) as a sponsor of the Hereditary Neuropathy Foundation (HNF), which hosted the Externally-led Patient-Focused Drug Development Meeting (PFDD) on Friday, September 28, 2018, at the College Park Marriott Hotel and Conference Center in Hyattsville, MD.
The PFDD meeting brought together patients, caregivers, industry, healthcare providers, payors, the NIH, and FDA, to understand the challenges of patients living with CMT and the unmet medical need where there are no drug treatments available. Two members of the CMTA's STAR Advisory Board, Drs. Michael Shy and Stephan Zuchner, were speakers at the event.
The HNF, CMTA and MDA collaborated on this "Voice of the Patient" report for the FDA that summarizes the input provided by patients and patient representatives at the meeting. This partnership will help ensure that therapies and treatments will address the concerns of the CMT community. Under the fifth authorization of the Prescription Drug User Fee Act (PDUFA V), these meetings were designed to more systematically gather patients' perspectives on their condition and available therapies to treat their condition.
We thank the HNF for coordinating this important meeting and the MDA for their partnership. We believe this collaboration will help accelerate research and treatments for CMT patients worldwide.
Read about the Patients as Partners in Research Initiative ⟶