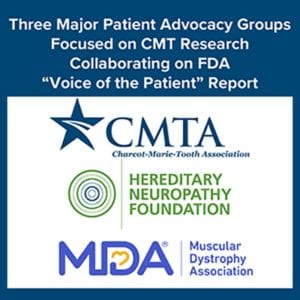 This CMT Awareness Month, the Charcot-Marie-Tooth Association (CMTA) is proud to join the Muscular Dystrophy Association (MDA) as a sponsor of the Hereditary Neuropathy Foundation (HNF) who will be hosting the Externally-led Patient-Focused Drug Development Meeting (PFDD).
The PFDD meeting will bring together patients, caregivers, industry, healthcare providers, payors, the NIH, and FDA, to understand the challenges of patients living with CMT and the unmet medical need where there are no drug treatments available. Two members of the CMTA's STAR Advisory Board, Drs. Michael Shy and Stephan Zuchner, will be speaking at the event.
The PFDD meeting is being held on Friday, September 28, 2018, at the College Park Marriott Hotel and Conference Center in Hyattsville, MD.
The HNF, CMTA and MDA will be collaborating on a "Voice of the Patient" report for the FDA that summarizes the input provided by patients and patient representatives at this meeting. This partnership will ensure that therapies and treatments address the concerns of the CMT community. Under the fifth authorization of the Prescription Drug User Fee Act (PDUFA V), these meetings were designed to more systematically gather patients' perspectives on their condition and available therapies to treat their condition.
We thank the HNF for coordinating this important meeting and the MDA for their partnership. We believe this collaboration will help accelerate research and treatments for CMT patients worldwide.