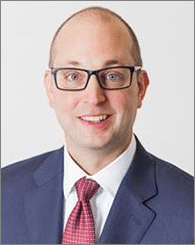 Glenolden, PA, Nov. 4, 2019
— The Charcot-Marie-Tooth Association (CMTA), the national patient advocacy organization leading CMT research, today announced the appointment of David Coldiron to its Board of Directors.
Dave brings almost two decades of business experience to the CMTA Board and is currently the director of mortgage lending at Legends Bank. Dave and his wife, Christina, live in Nashville and have two daughters, one of whom has CMT.
"Our daughter, Hazel, was diagnosed with CMT in November of 2015. Christina and I were so fortunate to find the CMTA, which has provided us with medical contacts and welcomed us into their caring community. It is an honor to join a team that is doing so much to support those impacted by CMT as well as leading the charge for development of treatments."
"Dave was able to join our recent CMTA Board meeting where we were all impressed by his enthusiasm and professionalism", said Gilles Bouchard, CMTA Board Chair "we are all looking forward to working with Dave on behalf of all CMT patients during these exciting times for our organization."
The CMTA Board of Directors is a dedicated cadre of business owners, executives, doctors and lawyers charged with overseeing the organization's operations and strategy. Because they are all so invested in the mission, they are singularly committed to the organization and give generously of their time and talents.