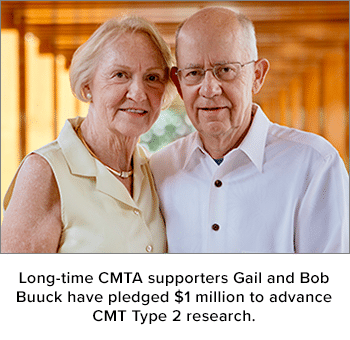 Bob and Gail Buuck are big believers in "impact giving," the practice of strategically using time, talents and resources to make meaningful, measurable change. The Buucks' impact on the CMTA—and the impact their giving empowers the CMTA to make—are both enormous.
The relationship between the CMTA and the Buucks dates back to 1997, when Bob and Gail traveled from their home in Minneapolis to a Patient/Family Conference in Detroit, where Dr. Michael Shy then had his CMT clinic. The Buucks made their first grant to CMT research shortly afterward.
In a story about the conference in the spring 1998 issue of The CMTA Report, Bob said, "It's not enough to fund research. The CMTA must become a leading source for all relevant data pertaining to CMT. It's a huge undertaking, but it must be done to properly guide research grant decision-making."
Call Bob prescient: In the 20-plus years since that conference, the CMTA has done exactly that with its Strategy to Accelerate Research (STAR), bringing top researchers together with pharmaceutical and biotechnology partners to accelerate scientific breakthroughs and develop therapies.
Bob and Gail entered the world of CMT when their son John, now 47, was born with a spontaneous mutation of CMT2A. He started showing evidence of symptoms while still a toddler and he was in a wheelchair by the time he was 12. A doctor at the Mayo Clinic finally diagnosed John at the age of 4 or 5, but at the time, Gail says, "There was nowhere to go." There were no support groups and the CMTA wasn't yet in existence.
The Buucks first connected with the Muscular Dystrophy Association, Gail said, but were basically told just to "live with it." Instead, they found a rehab center in the Twin Cities that helped John and began making donations there.
That all changed in 1985 when Bob sold the medical device company that he had cofounded to Pfizer. With greater resources available, the Buucks made their first grant to STAR in 2011. In the early days, the CMTA's grant application was simply directed toward CMT, Bob recounts, but it got more specific as the research progressed. The Buucks' donations helped CMTA researchers develop a rat model of CMT2A, Bob says with pride, adding, "We're pleased with what we've seen over the past five or six years."
The Buucks don't designate particular projects for their donations beyond that they be for CMT2A. They entrust that call to the CMTA. "There's been significant progress," Bob says, "and I've always thought that the CMTA's money was well-managed." Gail agreed. "Our comfort level [with the CMTA] is very high," she said, adding, "A lot of that comes from the fact that Dr. Shy is involved."
"We understand the importance of a 'lead gift' to stimulate other people to give more," Gail said of the couple's matching donation. STAR's success has also inspired the couple to increase their giving, Gail said. "We've seen results. This is successful so we're more apt to give more," and hope others do the same. Noting that their $1 million gift is spread out over five years, Gail emphasized that donors "can do a larger amount over time."
Today, their son John lives in California with his wife and their young son, who does not have CMT. John is very "self-adapting," with a full exercise regimen of swimming and working out with a trainer. He is also very active, Gail said, with the Buuck Family Foundation, which, in addition to giving to CMT research, focuses on issues of homelessness, poverty and children and families at risk.
Bob, 79, and Gail, 78, are retired now, but they're not letting any grass grow under their feet. The couple, who celebrated their 50-year anniversary in 2018, split their time between Minnesota and Arizona, where they are stewards at the McDowell Sonoran Conservancy. Gail, a former teacher, continues to volunteer with a number of causes in both states. In addition to working on his second novel, Bob is also very engaged at the University of Minnesota Foundation. The Buucks are a couple who make an impact wherever they are and whatever they're doing and the CMTA is beyond grateful for their trust and support.
The $1 Million Buuck Matching Gift
The CMTA is honored to announce a $1 million challenge grant to support the organization's new Type 2 CMT research strategy. Starting September 1, long-time CMTA supporters Bob and Gail Buuck will match any donations to CMT2 research on a one-to one basis.
Donations will go to implementing the CMTA's exciting new strategy for Type 2, a multi-pronged approach that includes projects on gene therapy, axon degeneration pathways, mitofusin confirmation drugs and human stem cell studies.
More details on the strategy will be announced in the next issue of The CMTA Report. To receive updates, email Jeana Sweeney at Jeana@cmtausa.org with Type 2 in the subject line.
2008 – 2019 CMTA 2A Research Program Milestones