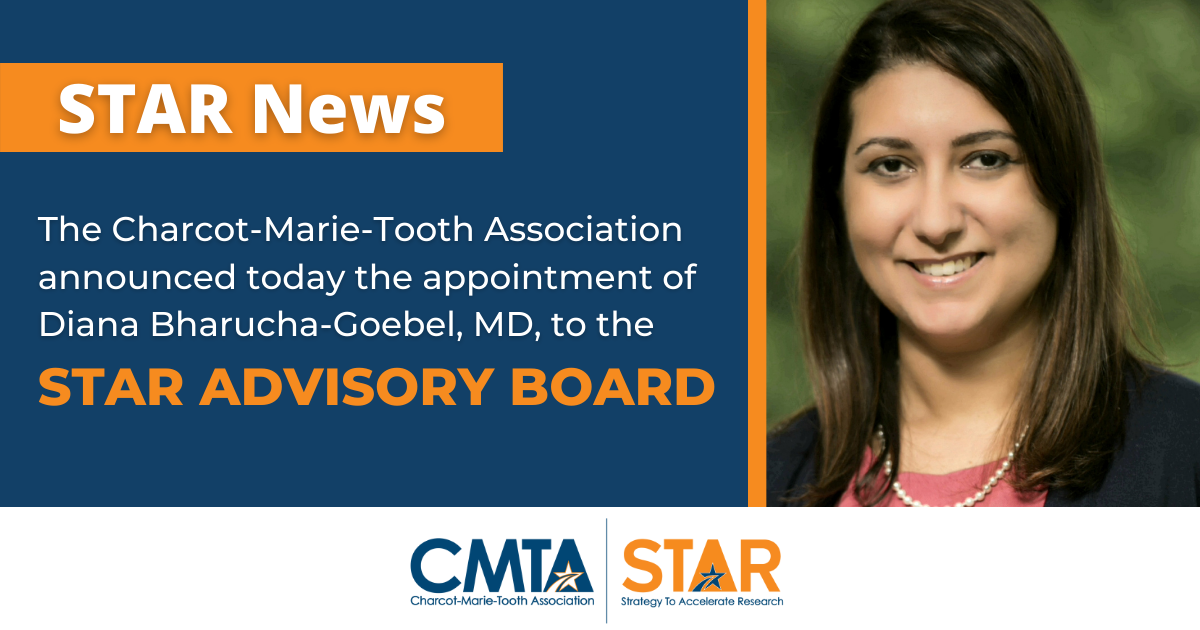 In a suite of exciting appointments, the Charcot-Marie-Tooth Association (CMTA) Strategy to Accelerate Research (STAR) Advisory Board is delighted to announce the appointment of Dr. Diana Bharucha-Goebel to their Clinical Expert Board (CEB). The CEB is comprised of world-leading experts who provide guidance and support to the CMTA's Alliance Partners, help to assure the success of clinical trials through the provision of natural history and clinical expertise, collaborate in the development of clinical biomarkers and lead the recruitment of patients and experienced investigators to clinical trials.
Dr. Diana Bharucha-Goebel, MD, PhD is Director of the Neuromuscular Program and Associate Professor in the Division of Neurology at Children's National Hospital in Washington, DC, and the Division of Pediatrics and Neurology at the George Washington University School of Medicine & Health Sciences. She is a clinical research collaborator in the Neuromuscular and Neurogenetic Disorders of Childhood Section within the National Institutes of Health (NIH) in Bethesda, Maryland.
Dr. Bharucha-Goebel is a pediatric neuromuscular neurologist and Clinical Director of the CMTA Center of Excellence at the Children's National Hospital in Washington, DC, her interests include moving scientific research and discoveries more quickly and efficiently into practice in early-onset neuromuscular diseases. Dr Bharucha-Goebel's particular focus is on the evaluation and identification of disease-focused outcome measures in rare disease as they relate to better understanding of functional outcomes for clinical trial readiness. In the clinic, her team strives to provide comprehensive and specialized care for children with CMT, ranging from expertise in genetic and electrophysiologic diagnostics to specialized family centered care in orthopedics, physical and occupational therapies, physical medicine and rehabilitation, neurology, nutrition and bone health.
Dr Bharucha-Goebel led efforts for the clinical development of a phase I first-in-human gene transfer trial for individuals with giant axonal neuropathy, while concurrently performing a parallel natural history study to assess outcome measures in this disorder. This work has led to a heightened interest in clinical trial readiness for neuromuscular disorders and hereditary neuropathies like CMT.
Dr. Bharucha-Goebel is also interested in better understanding how we efficiently and safely target the peripheral nervous system with viral mediated gene transfer treatment approaches, studying total vector genome dose, parallel preventative immune system modulation and immune system monitoring following gene transfer. Dr. Bharucha-Goebel's is also actively involved within her institution and nationally in understanding the impact of therapeutic approaches in the care needs and evolving phenotype for individuals with spinal muscular atrophy.
Speaking about the appointment, Dr. Katherine Forsey, the CMTA's Chief Research Officer, said "The STAR Advisory Board are happy to announce the appointment of Dr. Diana Bharucha-Goebel to our panel of expert clinicians and scientists. Dr. Bharucha-Goebel's pediatric specialism, dedication to scientific progress and passionate patient care will help to inform our strategy to accelerate research, particularly in the areas of clinical trial readiness and the safe roll-out of gene therapy approaches."
Further information and a full list of Dr. Bharucha-Goebel's publications can be found here.