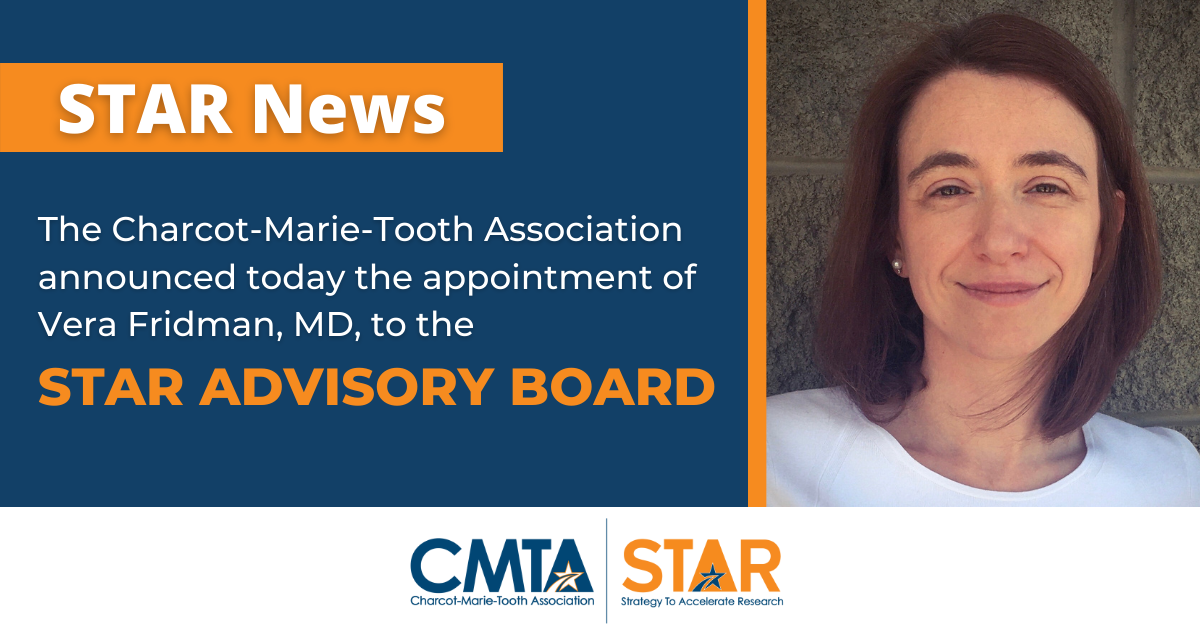 In a suite of exciting appointments, the Charcot-Marie-Tooth Association (CMTA) Strategy to Accelerate Research (STAR) Advisory Board is delighted to announce the appointment of Dr. Vera Fridman to their Clinical Expert Board (CEB). The CEB is comprised of world-leading experts who provide guidance and support to the CMTA's Alliance Partners, help to assure the success of clinical trials through the provision of natural history and clinical expertise, collaborate in the development of clinical biomarkers and lead the recruitment of patients and experienced investigators to clinical trials.
Vera Fridman, MD is an Associate Professor in the Neuromuscular Section at the University of Colorado's (CU) Anschutz Medical Campus, Clinical Director of the CMTA Center of Excellence at the University of Colorado Hospital, and Associate Director of Medical Student Education for the Department of Neurology.
Dr. Fridman has a long-standing clinical and research interest in peripheral neuropathy, her research to date has focused on paving the way for, and executing, treatment trials for neuropathy. Dr. Fridman's research aims to address the barriers to effective clinical trials in Charcot-Marie-Tooth (CMT) disease through the execution of natural history studies, identification of the best measures of disease progression, and investigations into new biomarkers and therapeutic targets. In collaboration with the Inherited Neuropathies Consortium, Dr. Fridman has carried out three major natural history studies in CMT, including the largest cross-sectional natural history study in varied forms of CMT, the largest longitudinal study of CMT1A, and the recently completed longitudinal study of CMT1B.
Dr. Fridman also has specific experience with Hereditary Sensory Autonomic Neuropathy Type I (HSAN1) and, in collaboration with Dr. Florian Eichler, carried out a clinical trial evaluating the effects of high dose L-serine supplementation in patients with HSAN1. The trial demonstrated clinical improvement of neuropathy in response to treatment and was one of the first biologically rational therapies for a hereditary nerve disease.
Speaking about the appointment, Dr. Katherine Forsey, the CMTA's Chief Research Officer, said "We are delighted to announce the appointment of Vera Fridman, MD to the CMTA STAR Advisory board. Dr. Fridman is a highly respected CMT specialist clinician and director of the CMTA Center of Excellence at the University of Colorado Hospital. Dr. Fridman's expertise, knowledge and close links with the CMT patient community will be essential to the CMTA's strategy to accelerate research and the effective development of clinical trials as we progress treatments into the clinic."
Dr. Fridman earned her BS in Neuroscience at Brandeis University and MD at Tufts University before completing Neurology Residency at the University of Pennsylvania where she was awarded the Penn Pearls Award for Excellence in Clinical Teaching and Steven L. Galetta Resident Teaching Award. Dr. Fridman completed Neuromuscular Disease Fellowship at Brigham and Women's and Massachusetts General Hospitals, followed by a Clinical Research Fellowship in Hereditary Neuropathy at Queen Square London, University of Iowa, and University of Rochester Hospitals and Clinics. She then joined the faculty at Harvard Medical School and Massachusetts General Hospital.
Dr. Fridman has published a comprehensive review of demyelinating neuropathy mechanisms and treatments for a special issue of Neurotherapeutics. Further information and a full list of Dr. Fridman's publications can be found here.
You can see Dr. Fridman speak on 'from rare to common neuropathies: measuring change over time' for a University of Michigan grand rounds in October 2021 here.