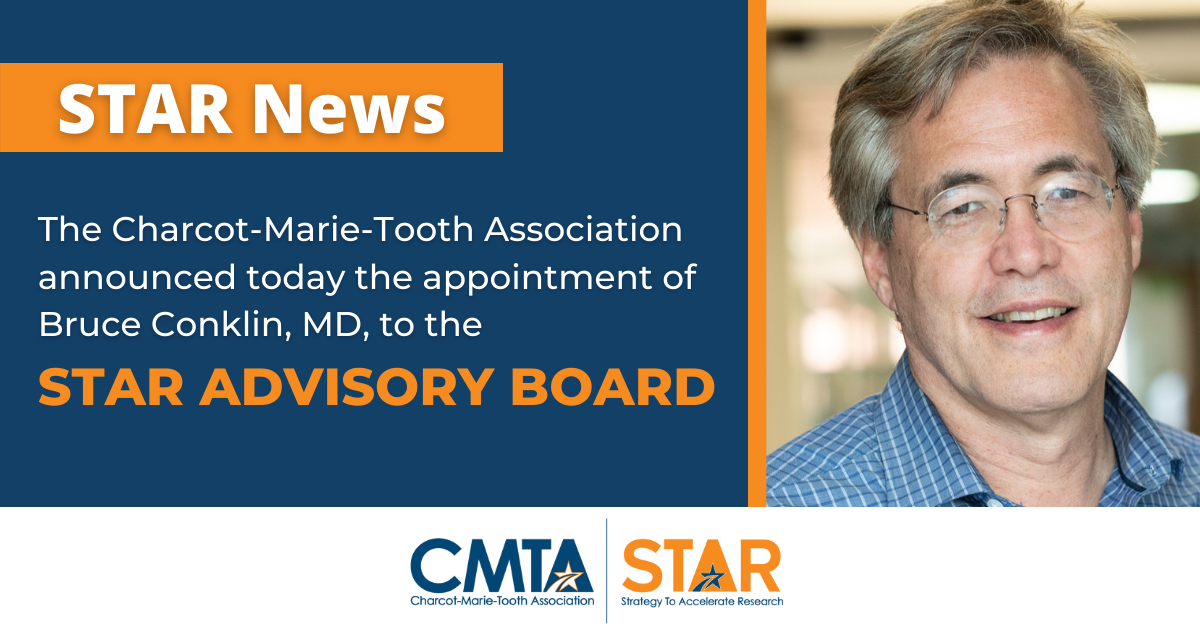 In a suite of exciting appointments, the Charcot-Marie-Tooth Association (CMTA) Strategy to Accelerate Research (STAR) Advisory Board is delighted to announce the appointment of Dr. Bruce Conklin to their Scientific Advisory Board (SAB). The SAB is comprised of world-leading experts who provide scientific input and evaluation of ongoing or proposed CMTA funded research projects and guide the CMTA's research strategy.
Bruce R Conklin, MD is a Senior Investigator at the Gladstone Institutes, Professor at the University of California San Francisco (UCSF) and Deputy Director of the Innovative Genomics Institute founded by Jennifer Doudna, Ph.D.
The Conklin Lab focuses on biomedical applications of CRISPR gene editing technology with an emphasis on motor neuron diseases such Charcot-Marie-Tooth (CMT) and amyotrophic lateral sclerosis (ALS). Decoding human genetics allows Dr. Conklin to develop models of CMT that can be directly treated with gene correction or targeted drug therapy. Dominant negative gene mutations, which cause CMT, are particularly promising targets for gene editing since they are resistant to other, more traditional, treatment approaches. Precise cutting out of the disease-causing parts of the DNA sequence using CRISPR gene editing could provide a cure for CMT.
Dr. Conklin's lab uses induced pluripotent stem cells (iPSCs) collected from adult CMT patients to create model motor neuron cells. They use these model cells to test the effects of the CRISPR gene editing treatments they are developing. If the treatment is found to be effective in the human model cells, we are one step closer to a treatment that will be effective in CMT patients.
about the appointment, Dr. Katherine Forsey, the CMTA's Chief Research Officer, said "We are happy to announce the appointment of Bruce R Conklin, MD to the CMTA STAR Advisory board. Dr. Conklin is a leader in the development of genome surgery approaches to treat CMT, his knowledge and expertise will help guide and inform the CMTA's strategy to accelerate research and enable us to drive progress towards effective treatments for all types of CMT through utilization of these rapidly advancing technologies."
Dr. Conklin's lab has been funded by the CMTA for research on CRISPR therapies for CMT2A, CMT2E, CMT2F. The promising findings from this initial research suggests this approach could also be used for many other types of CMT.
Dr. Conklin was born in New York City, raised in both New Haven, Connecticut, and near Banaue, Philippines, where his father, an American anthropologist, spent several years studying native cultures. Conklin's mother was a biology research associate at Yale and is credited with encouraging his curiosity in nature. When not immersed in his research, Dr. Conklin enjoys hiking, travelling and watching animals in the wild, particularly giraffe.
For more information on the Gladstone Institute and their inspirational vision for CMT research visit here.
For more information on the work of the Conklin Lab and a full list of their publications visit here
You can follow the Conklin lab and Gladstone Institute on Twitter.