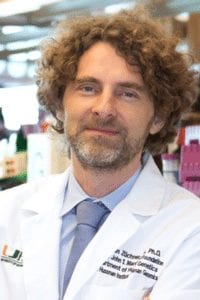 While researchers have identified more than 90 mutated genes that cause CMT, approximately 50 percent of CMT2 patients do not yet have a definitive genetic diagnosis. Dr. Stephan Züchner at the University of Miami is working to change that, spearheading an ambitious project to identify new disease-causing mutations in patients seen in the Inherited Neuropathies Consortium (INC). INC is an integrated group of academic medical centers, patient support organizations, and clinical research resources dedicated to conducting clinical research in different forms of CMT and improving the care of patients. Funded primarily by the National Institutes of Health (NIH) with supplemental funding from the Charcot-Marie-Tooth Association and the Muscular Dystrophy Association, INC plays a key role in developing the infrastructure necessary to evaluate CMT therapies.
"The work in Züchner's lab aligns perfectly with the CMTA's Strategy to Accelerate Research (STAR)," CMTA CEO Amy Gray said. "Funding this project is another way the CMTA supports the development of therapies for the CMT community," she added, explaining, "As we discover more of the genetic causes of the unidentified forms of CMT, we can strategically target them with potential therapies."
Züchner and the team of University of Miami and INC researchers use purpose-developed software, the GENESIS platform, to perform large-scale exome and genome analysis on the DNA of patients with CMT2 (among others), which primarily affects the axons of motor and sensory neurons. Up to half of all individuals with CMT have CMT2, or approximately 1 in 5,000 people.
For those who haven't kept up with the rapidly changing field of genomics, determining the order of DNA building blocks (nucleotides) in a person's genetic code is called DNA sequencing. Two other methods—whole exome sequencing and whole genome sequencing—rely on new technologies that allow for rapid sequencing of large amounts of DNA. These approaches are known as next-generation, or next-gen, sequencing. Next-generation sequencing has sped up the process, taking only days to weeks to sequence a human genome, while reducing the cost.
With next-generation sequencing, it is possible to sequence large amounts of DNA, such as all the pieces of an individual's DNA that provide instructions for making proteins. These pieces, called exons, are thought to make up some 2 percent of a person's genome. Together, all the exons in a genome are known as the "exome," and the method of sequencing them is known as whole exome sequencing. Because most known mutations that cause disease occur in exons, whole exome sequencing is thought to be an efficient method to identify possible disease-causing mutations. Ultimately, however, the field is gradually moving to whole genome sequencing, an approach that produces nearly 10 – 20 times more data. This is partially driven by the observation that DNA variations outside the exons can affect gene activity and protein production and lead to genetic disorders—variations that whole exome sequencing would miss. Many more patients will potentially receive a genetic diagnosis when whole genome sequencing analysis is fully established.
As Züchner explains it, "Next-generation sequencing has transformed the genetics field. We use clinical, bioinformatics, and molecular approaches to study the outcome of large scale exome and whole genome sequencing projects in pursuit of identifying and understanding the function of known and novel disease genes for neuromuscular and neurodegenerative disorders."
The massive amounts of data Züchner and his colleagues collect goes into two user-friendly databases: the GENESIS genomics analysis platform and the Inherited Neuropathy Variant Browser, where CMT neurologists and scientists worldwide can analyze and share their CMT data with ease and add detailed clinical observations. They can also leave suggestions for new CMT genes to be added and rate the pathogenicity of any genetic variants. The project is equally important for diagnosis recommendations and for continued discovery research. Each new cause of CMT yields important clues and potential drug targets for CMT2. Even though different genes are mutated in different CMT2 forms, there is increasing evidence of underlying linkages between diverse types of CMT2 that will enable therapies that can work with multiple forms of the disease. (Read more about the work the CMTA is doing to develop treatments for CMT2 and other CMT sub-types.)
Stephan Züchner, MD, PhD, MD (hc), FAAN, is a Professor of Human Genetics and Neurology at the University of Miami Miller School of Medicine, Chairman of the Dr. John T. Macdonald Foundation Department of Human Genetics and the Co-Director of the Hussman Institute for Human Genomics. He is also the Co-Chair of the CMT and related Disorder section of the Peripheral Nerve Society and a member of the CMTA's Scientific Advisory Board. Dr. Züchner has been involved in the discovery of more than 50 disease-causing genes, including the MFN2 gene, which accounts for more than 20 percent of all CMT2.
How to Participate in Dr. Züchner's Study
Dr. Züchner's study, designated as Project #6602 by the Inherited Neuropathies Consortium (INC), is an ongoing study currently in its tenth year to identify new causes of CMT for those who cannot find the genetic cause of their CMT with tests that are currently available.
Individuals who have already been seen at one of the INC sites who are eligible for this project have probably already been enrolled, but they can contact their INC site directly if they have questions about participation. As a new patient, to be eligible for this project, you first need to contact one of the INC locations to be evaluated and enroll in the INC Natural History Study (Project #6601). This will involve being seen in person at one of the INC's sites.
To learn how to enroll in Project #6601, please visit www.rarediseasesnetwork.org/cms/inc/6601.
The INC and this project are funded by the NIH and MDA in addition to the CMTA.
Once you've participated in Project #6601, you may proceed with Project #6602. Instructions for enrolling in Project #6602 can be found here: www.rarediseasesnetwork.org/cms/inc/6602.
Thank you for your interest and participation in partnering with the CMTA to advance research! We look forward to providing you with future updates on Dr. Züchner's project!