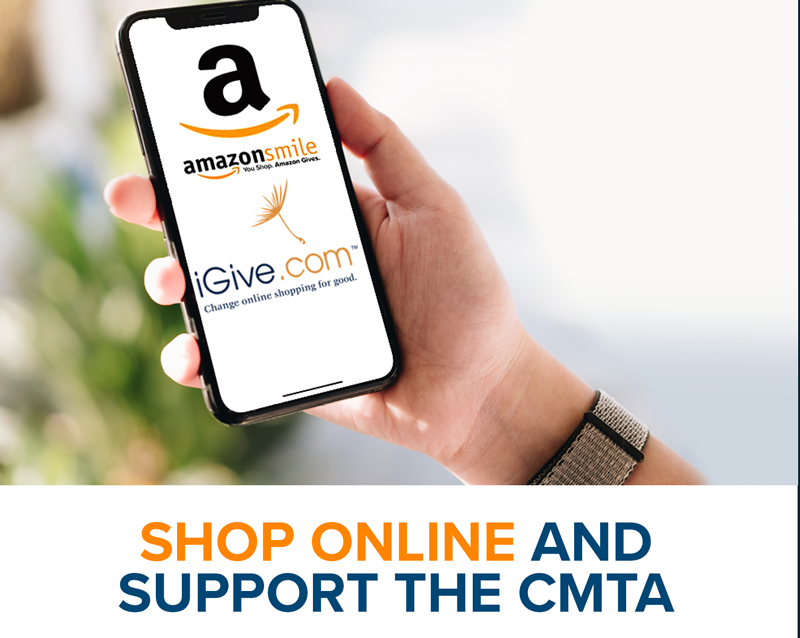 Members of our community who have enrolled in iGive and Amazon Smile have raised nearly $25,000 for the CMTA just by shopping online, but it could—and should—be more, a lot more, because it's so easy and doesn't cost anything to use either of these shopping tools.
igive.com

With iGive.com, for example, you can shop at any of 2100 online stores. Use the iGive Button, iPhone/iPad or Android app, or simply use the iGive site to visit stores, and, depending of the store, the portion of your purchase donated to the CMTA can range from 0.5% to over 20%.
A typical shopper raises over $100/year and never pays more for any purchase. Just about anything you buy counts, amd iGive takes care of the details, including sending the money you've helped raise to the CMTA.
Click here and start using iGive.com today!
---
AmazonSmile

AmazonSmile is a simple and automatic way for you to support your favorite charitable organization every time you shop, at no cost to you. When you shop at smile.amazon.com, you'll find the exact same low prices, vast selection and convenient shopping experience as Amazon.com, with the added bonus that Amazon will donate a portion of the purchase price to your favorite charitable organization. You can choose from over one million organizations to support.
To shop at AmazonSmile, simply go to smile.amazon.com from the web browser on your computer or mobile device. On your first visit to AmazonSmile, you'll need to select the CMTA as the charitable organization to receive donations from eligible purchases before you begin shopping. Amazon will remember your selection, and then every eligible purchase you make at smile.amazon.com will result in a donation.
Tens of millions of products on AmazonSmile are eligible for donations. You will see eligible products marked "Eligible for AmazonSmile donation" on their product detail pages. Recurring Subscribe-and-Save purchases and subscription renewals are not currently eligible.
You also use the same account on Amazon.com and AmazonSmile, so your shopping cart, Wish List, wedding or baby registry, and other account settings are also the same.