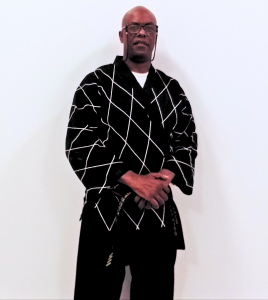 Master Kenneth Hill, Jr.'s martial arts journey began at the age of nine. What inspired his journey was the film "Enter the Dragon" starring Bruce Lee. Once he saw this movie, which is still his all-time favorite, he didn't want to do anything else.
He was a little guy who was quiet, shy, and stuttered when he talked. Many of the people that he encountered would bully or overlook him.
Martial arts has been a tremendous struggle for Kenneth, because he was constantly injuring his ankles. He was advised at the age of 22 to stop training and have surgery on both ankles. He was told that with the surgery, he would need a wheelchair by the age of 35. He was told that without the surgery, it would be sooner. He declined their recommendation.
In his early thirties, he was diagnosed with a hereditary neuropathy called Charcot-Marie-Tooth disease (CMT). This diagnosis helped to explain the cause of the weakness in his lower extremities and the lack of "fine motor skills" in his hands.
He appreciates the diagnosis, but he does not define himself by CMT. It's been an incredible journey of more than forty-eight years and he looks forward to all the things that are to come. Even after all this time, he's still a student.
His biggest goals were to be able to practice martial arts and to walk at the age of thirty-five. Accomplishing those goals has been spectacular, but having the ability to teach martial arts to special needs students has been a blessing. Having the opportunity to show them that they have worth, even when others do not see it is what motivates Kenneth.
He went from questioning his purpose to knowing that he has value and that is what he teaches through martial arts. He was a kid that was picked last or not at all and is now an eight-time Hall of Fame/Hall of Honors inductee.
Kenneth will be the keynote speaker at the CMTA's 2022 CMT Patient & Research Summit on October 1, 2022.
Ranks:
4th Dan: U.S. Hapkido and U. S. Tae Kwon Do
2nd Dan: International Tang Soo Do and American Freestyle Hapkido
1st Dan: World Tang Soo Do Federation/South Korea
8X Hall of Fame Inductee
Professional Organizations:
American Martial Arts Alliance Institute
Cinnaminson Fire Department: Former volunteer firefighter; current contributory member
CMTA Athlete
Maxwell Leadership Team
PKA Worldwide
Toastmasters International
U. S. Hapkido Alliance, LLC
World Hapkido Alliance
World Karate Studio
Publications:
Just Breathe, published 2021 (eBook)
Martial Arts Extraordinaire Magazine, May Edition 2022z