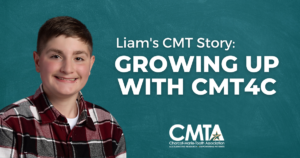 Liam's CMT Story: Growing Up with CMT4C
As an infant, I lived with many challenges, including the inability to stand independently and keep my balance to be able to walk on my own. My parents decided to have an early intervention evaluation when I was 16 months old, which resulted in my qualifying for some much needed services in the form of physical therapy.
At 19 months, I was finally walking on my own. I continued to have an unsteady gait that would sometimes cause me to fall. I was unable to run or keep up with my peers, which concerned my parents. They had another evaluation done when I was in preschool, and my parents got a referral to see a pediatric neurologist who was certain that I was experiencing some kind of neurological delay.
I had an EMG done when I was 4 years old. The doctors noticed my nerves were not working like that of my peers, and they determined I had Charcot-Marie-Tooth disease, but further genetic testing (DNA) and blood work would be needed to confirm. Shortly after, I was diagnosed with CMT Type 4C.
This was the start of our journey, the beginning of my parents being the best advocates, and the part of my life where everything I did required that much more effort than that of my peers. From that day and through today, I have never really been able to share in what I will call a normal life, but what I do have is an amazing support system both inside and outside of school. I have been blessed with some of the best teachers, therapists, faculty, and staff who walk beside me each day, holding me up whenever I need their support. They have supported me from kindergarten through today (I'm now in 8th grade).
What CMT has Been Like for Me at School
Around the age of 6 years old, I began receiving provisional services through OPWDD transitioning to permanent eligibility when I was 8 years old, which allowed the following – equine/horticulture therapy, swimming/personal training, yoga, guitar and piano lessons.
K-2nd grade had its ups and downs. I began wearing AFOs in 1st grade and carried my IEP — which I had for both physical & academic support — until the end of 2nd grade, switching to the 504 plan as I had caught up academically.
This is around the time that my family and I met Jeana Sweeney, director of development for the CMTA, at the Cycle4CMT in Charlotte, VT. We had a wonderful time just getting to know the people & it was then that Jeana said she would love to someday visit my school to better help everyone in my school building gain a better understanding of CMT and all that it encompasses for someone like me each day.
I was placed in an integrated co-teaching (ICT) classroom for 4th grade to better meet my needs academically & still received both PT/OT as well as receiving both of these services outside of school to help build my strength. This was one of my best years in school, especially with my teachers being able to teach with the more hands-on approach that so many students need to be successful. Toward the end of 4th grade, it was recommended by my PT/OT that I begin using an assisted device. I did NOT want to use it for the fear of looking different than my peers. Jeana Sweeney gave a presentation at my school and through her help, I felt better about who I was.
Shortly after, my parents had my walker "detailed" into my very own "ride" with the theme being Harley Davidson. The first few days of using it in front of my peers were hard, but slowly I became more comfortable. And, believe it or not, they all accepted me for who I was which made it that much easier. I used it everyday, as needed, noticing that it really helped with my fatigue and my balance as I meandered through my classroom, hallways, etc. I even have a seat to sit on when I need to rest.
This year, I am in 8th grade & so far everything is going well. I still require a lot of support more so because of the mental fatigue that sometimes gets the best of me depending on the day, what I am working on, etc. Some days are better than others depending on my level of fatigue. I just do the best I can each day. My CMT has slowly been progressing in that I use my walker everyday as it has a seat when I need to take a rest. No two days are ever the same, it's true!
I am taking part in an Adaptive PE class this year. I am exhausted by the day's end. I switch classes every 40 minutes & I still have my 1:1 aide for safety, although she does so much more. She has helped with my confidence, which in turn has made me a much more responsible student who is ready, willing and able to learn with the proper support, of course! And, I have also learned to advocate for myself in the process.
Camp Footprint
I attended Camp Footprint for the first time in August 2019 and fell in love with everything that it encompasses. I love being around like minded people such as myself. We just get each other, we understand and we push through no matter what. These are my people, my tribe and most importantly my family! The last two camps have been virtual because of COVID-19, however I am thrilled to get back to our magical place.
Other Challenges I Face
In August 2021, my parents noticed that my right shoulder area was slightly raised in comparison to the left. We asked my physical and rehabilitation medical doctor for some insight as to what she thought was happening, to which she immediately said that she had thought my rib cage had shifted due to the possibility of scoliosis. Sure enough, I had a scoliosis study done and it showed just that – SCOLIOSIS! Our goal now is to not have a spinal fusion as it would ultimately limit my mobility, however with a 46° curve we have to find the best when it comes to surgery.
One of my biggest daily struggles is feeling defeated before I even begin the task being asked of me. If I am fatigued, it causes me to not have the confidence needed to carry on without giving up before I have even tried & that holds true for everything that requires any kind of energy. I have learned to become quite the adaptive thinker, utilizing any/all of my resources to sometimes talk myself out of doing the task, chore, etc.