The CMTA's Advisory Board Grows
Because patient advocacy is one of the missions of the CMTA, the CMTA Board of Directors created an advisory board whose members will offer insights into some of the important, but not neurological, issues facing people dealing with CMT. Our experts come from a wide variety of backgrounds and will be happy to assist CMTA members who have questions in areas in which they would be considered "experts." Below, we introduce you to the current advisory board members.
---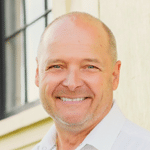 Ken Cornell
Ken Cornell, CO, is co-founder of Cornell Orthotics and Prosthetics in Peabody, MA. He has made managing patients with CMT a focus for 25 years. He is the orthotist at the CMTA Center of Excellence at the MGH Boston location. He is past president of the New England Chapter of the American Academy of Orthotists and Prosthetists. He has been an educator for dynamic carbon ground reaction AFOs and, their functional benefits for patients diagnosed with CMT. With his combined experience in gait training with AFOs, he manages patients orthotically to minimize deformity and restore a normal gait pattern with improved balance and propulsion.
---

Bob DeRosa
Bob, a marketing and creative professional with more than 35 years' experience, became involved with the CMTA when staff members made a presentation to his former employer. Moved by their stories and the CMTA's mission, he decided to take an active role in supporting the organization and in 2013, he was named volunteer of the year. With his marketing, branding and design work, Bob provides a fresh and engaging approach to raising awareness about the CMTA's mission and goals.
---

Katy Eichinger
Katy Eichinger, PT, PhD, DPT, NCS, is an assistant professor of neurology at the University of Rochester School of Medicine and Dentistry. Outside of the classroom, Dr. Eichinger assists in providing clinical care for adult and pediatric patients with neuromuscular diseases as a neurologic certified specialist.
After receiving her MS in physical therapy from Springfield College and her doctorate from Upstate Medical University, Dr. Eichinger earned her PhD in health practice research at the University of Rochester. Her research and practice interests focus on health and wellness, outcome measures and balance. Additionally, Dr. Eichinger is a clinical investigator for natural history studies and clinical trials involving patients with CMT and several types of dystrophy.
---
Ashraf Elsayegh
Ashraf Elsayegh, MD, FCCP, is a distinguished physician and researcher based in Los Angeles, California. With sixteen years of experience, Dr. Elsayegh is a foremost expert in the field of pulmonary medicine as it relates to neuromuscular disease. He currently practices at Cedars-Sinai Medical Center and is an associate clinical professor at UCLA School of Medicine. His clinical and research interests revolve around respiratory function in the neuromuscular patient with special interest in diaphragm dysfunction. Dr. Elsayegh has authored and published numerous articles and textbooks in the field of pulmonary medicine and pulmonary complications in neuromuscular patients. In addition, he has lectured worldwide on these topics. Dr. Elsayegh has been treating neuromuscular patients, including those with Amyotrophic Lateral Sclerosis (ALS) and Charcot-Marie-Tooth (CMT), for over 15 years. He is an adviser on numerous boards in the fields of pulmonary medicine, critical care medicine, sleep medicine, and neuromuscular disease.
---

Tim Estilow
Tim Estilow, OTR/L, is an occupational therapist in the Neuromuscular Program at the Children's Hospital of Philadelphia. Tim also serves on the Junior Committee of the Peripheral Nerve Society and as a member of the Inherited Neuropathies Consortium.
Tim's professional aim is to establish therapeutic interventions to improve hand function and balance in people with CMT for improved quality of life. He has participated as an evaluator in clinical trials for CMT and several other neuromuscular and neurological diseases. Tim has made important contributions to the development of clinical outcome measurers for CMT, including the CMT Pediatric Scale (CMTPedS) and the CMT Infant Scale (CMTInfS). Currently, Tim is investigating the impact of CMT on hand function and balance as it relates to activities of daily living.
---

Shawna Feely
Shawna Feely, MS, CGC, is a board-certified genetic counselor with a specialty in neurogenetics and CMT. She was previously an Adj. Associate Professor at the University of Iowa, where she helped to provide genetic counseling services and coordinate the CMT Clinic with Dr. Michael Shy. She has now moved to Seattle Children's Hospital where she is helping to start the CMTA Center of Excellence clinic with Dr. Seth Perlman. She has worked closely with the CMTA in the past, speaking at Patient/Family conferences, at the CMT SAG facilitator conference, and at local support groups. She has worked with individuals and families who have CMT, and she has done research in this area, particularly involving CMT Type 2A (CMT2A). She has immensely enjoyed her work with the individuals and families that she has been able to meet in clinic over the years, along with all the wonderful people who are committed to the CMTA. She is looking forward to continuing this work at Seattle Children's and as a member of the CMTA Advisory Board.

Valery Hanks
Valery Hanks, OTR/L, C/NDT, is an occupational therapist at Pi Beta Phi Rehabilitation Institute at Vanderbilt Medical Center Bill Wilkerson Center in Nashville, Tennessee. She provides outpatient services as part of an interdisciplinary team for adolescents and adults with neurological impairments. Valery graduated from The University of Tennessee Health Sciences Center in 2000 and has focused her entire career on helping people with neurological impairments. She became involved with the CMTA Center of Excellence at Vanderbilt several years ago and was part of the CMTA Patient/Family Conference in Nashville in 2015. Valery is honored to be a part of the CMTA and thrilled to provide any assistance she can to aid in advancing the field of treatment, research and patient/family education.
---

Sarah Kesty
Education and disability consultant, speaker, and author Sarah Kesty helps CMTA members make the best of their children's school experiences. An experienced advocate who has CMT herself, Sarah helps families navigate school support systems with confidence and clarity.
Sarah has been working with individuals who have a wide range of disabilities for almost 20 years. She is a board-certified advocate in Special Education and a 4-time Teacher of the Year.
After Sarah earned two teaching credentials, she graduated from Sacramento State University with a master's degree in special education. She has taught children of all ages, from kindergarten through college and has given workshops across the globe.
As a motivational speaker for groups of teachers, parents and students, Sarah speaks on disability awareness, advocacy and maximizing life satisfaction. She also writes for several publications, including George Lucas's Edutopia and KQED. Her podcast, The IEP OMG Show, empowers parents to advocate for their kids! Be sure to read the inspiring stories she shares on her website, www.sarahkesty.com, and check out her children's book, "Everyone Has Something!"
---

Kate Lair
A former disability claim case manager, Kate Lair brings a wealth of knowledge and experience to the CMT patient community as a member of the CMTA's Advisory Board. Diagnosed with CMT1A in infancy, Kate considers herself a "professional patient" and has learned how to adeptly navigate the health insurance bureaucracy. After graduating with a master's in sociology, Kate went on to hold non-profit and private sector jobs in a variety of fields, including individual disability insurance and employer-sponsored long-term disability insurance. Kate lives in western Massachusetts with her husband and daughter and is excited to put her expertise to good use on behalf of her fellow CMT patients and their families!
---

Bethany Noelle Meloche
Bethany Meloche is the author of How Should A Body Be?, a coming-of-age story about growing up in Michigan, falling in love and learning to live with Charcot-Marie-Tooth disease. Bethany is a professional storyteller who speaks internationally on the topics of facing fears, having vision and embracing your differences. Her story has been featured in the Daily Cal, the Mercury News, Mountain View Voice, Lower Extremity Review, and Neurology Now.
Bethany worked for the Charcot-Marie-Tooth Association for five years in the roles of director of social media and director of digital strategy. She pioneered the growth of the CMTA's online communities and remains a powerful patient advocate in her role on the Advisory Board. Raised in Ann Arbor, Bethany has a degree in nutritional science from the University of California, Berkeley, and currently lives in London, where she writes and goes for long walks with her husband.
---

Tom Meloche
Tom Meloche is a serial entrepreneur with a focus on starting, building and selling commercial software products and companies. His most recent book, "Ceremony: A productivity pattern language," teaches organizations how to improve workplace interactions and increase positive emotional energy through structured rituals. Tom is also the founder and president of Meloche Consulting Inc. and WiseTise Facebook Advertising. He is the co-author of the best-selling book "Ultimate Guide to Facebook Advertising."
---

David B. Misener
David B. Misener, BSc (HK), CPO, MBA, is an American board-certified prosthetist and orthotist who has been practicing in Albany, NY, since 1998. He is one of three owners of Clinical Prosthetics and Orthotics, which has office locations ranging from Saratoga Springs to Poughkeepsie, NY. Originally from Guelph, Ontario, he received his BS in human kinetics from the University of Guelph. He then went onto post-graduate work in orthotics and prosthetics at George Brown College, Toronto, Ontario.
Not only does David provide services to people with CMT, he has CMT. He was born with CMT1B as was his son Ethan. David's maternal grandfather was the first known family member with CMT, and David assisted his family in determining the genetic source by working with the Lupski Laboratory at Baylor College of Medicine. He looks forward to contributing to the CMT Association and is excited to be part of a great team.

Elizabeth K. Misener
Elizabeth K. Misener, PhD, LMSW, loves being a part of the CMTA community as her husband and son both have CMT1B. Elizabeth and David met in high school (in Ontario, Canada) and have spent the last 33 years thriving with CMT in their lives. They settled in Upstate New York 20 years ago and have two teenage sons, one of whom has CMT1B. David was born with CMT1B, and his mother and many of his immediate family members in Canada have CMT1B.
Elizabeth has been working with clients to alleviate depression and decrease anxiety for over 18 years. She believes that when people experience severe life stressors, it is not uncommon for their lives to unravel and for them to become stuck in the pain. Her passion is listening to her clients' stories and providing evidence-based tools to support them in their journey dealing with depression, anxiety, grief, suicidal thoughts, life transitions and everyday struggles. She has experience working with a range of individuals, including college students, seniors, and adults facing life balance issues, as well as families dealing with disabilities.
Elizabeth received her MSW from Syracuse University in 1998 and her PhD from SUNY at Albany in 2001. She has been trained in a variety of therapeutic modalities including Solution Focused, Problem Solving Therapy and approaches from the "Science of Happiness" that include enhancing mindfulness, character strengths (www.viacharacter.org), and gratitude.
---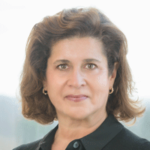 Christine Murray
Christine Murray, MD, is a board-certified reproductive endocrinologist and infertility (REI) specialist. She has spent 20 years in Vermont as an academic physician involved with the training of medical students, residents and fellows. Dr. Murray has published in multiple peer-reviewed journals including Human Reproduction, Obstetrics and Gynecology and Fertility and Sterility. Dr. Murray received her medical degree from the Mayo Graduate School of Medicine. After completing an internship at Georgetown University, she returned to the Mayo Clinic to undertake two years of training in the department of psychiatry. She underwent OB/GYN residency training at McGill University in Montreal, Quebec, followed by a fellowship in reproductive endocrinology and infertility. Dr. Murray served as an assistant professor in the REI Division at the University of Pittsburgh/Magee Women's Hospital from 1997-1999. From 1999-2014, Dr. Murray worked at the University of Vermont Medical Center and was an associate professor in the Division of Reproductive Endocrinology. In addition to a busy clinical practice, Dr. Murray became residency program director in 2004 and held that position for eight years. In 2015, Dr. Murray opened Northeastern Reproductive Medicine to bring affordable, comfortable fertility care to patients wishing to build their families.
Dr. Murray specializes in IVF and PCOS and has served on the HealthFirst Board Of Directors from 2014-2017, leading the effort to provide community-based, accessible, effective, and personalized medical care. She has a special interest in preimplantation genetic testing of embryos, a technology that helps families deal with genetically inherited disorders and offers an approach to building families with an increased knowledge of, and options to address, genetically inherited syndromes.
Dr. Murray became interested in the CMT community through her close friendship with the Ouellette family. Through the Ouellette's philanthropic contributions to the community-initiated by a family member affected by CMT, Dr. Murray has become interested in helping families in the CMT community understand their options. She hopes that her extensive connections within the reproductive medicine community can provide answers and assistance.
---

Sabrina Paganoni
Sabrina Paganoni, MD, PhD, is an assistant professor at Harvard Medical School and works as a physician scientist at the Healey Center for ALS at Massachusetts General Hospital. Dr. Paganoni's research focuses on therapy development for ALS. She designed and is currently leading several ALS clinical trials that include novel endpoints and biomarkers and innovative trial designs. She is the co-principal investigator for the HEALEY ALS Platform Trial.
Dr. Paganoni received her medical degree from the University of Milan, Italy, and her PhD in neuroscience from Northwestern University. She completed her residency and fellowship training in Boston in the Harvard Medical School hospital system. Dr. Paganoni has published more than70 peer-reviewed papers. Her research has been funded by the NIH, foundations, and industry. She received several awards for her work including the NIH Rehabilitation Medicine Scientist Training Program Award (2012), the American Academy of Neurology / ALS Association Three-Year Career Development Award in ALS (2017), and the American Association of Neuromuscular & Electrodiagnostic Medicine Scientific Impact Award (2019).
---

Glenn Pfeffer
Glenn Pfeffer, MD, is director of the Foot and Ankle Center at Cedars-Sinai Medical Center. He is also a o-director of the Hereditary Neuropathy Program and Co-Director of the Cedars-Sinai/USC Glorya Kaufman Dance Medicine Center. Dr. Pfeffer has written numerous scientific articles on orthopaedics and has edited seven academic textbooks on the foot and ankle. He has been treating foot and ankle problems in patients with Charcot-Marie-Tooth disease for 25 years. He is a past president of the American Orthopaedic Foot and Ankle Society and recently served as president of the California Orthopaedic Association. Dr. Pfeffer is frequently interviewed on foot and ankle topics and has been featured on CNN, Dancing with the Stars, Dateline NBC, Good Morning America, and in The New York Times.
---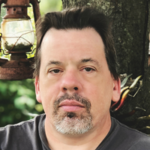 Kenneth Raymond
Kenneth Raymond is a CMTer who was first diagnosed with Type 1 CMT in late 2002, at the age of 29. He was genetically confirmed to have CMT1A a year later. Kenneth has devoted his life since diagnosis to studying, researching, and learning all things CMT, with an emphasis on the genetics of CMT as they relate to everyday CMTers, and with an emphasis on CMT-related respiratory impairment. A CMT blogger, an author, and a CMT genetics subject matter expert, Kenneth is a CMT advocate who is committed to raising CMT awareness through fact-based information rooted in the latest understandings of CMT.
Kenneth is passionate about sharing all things CMT, from a CMT patient's perspective and in a way that engages everyday CMT patients, so that every member of the CMT community can have a deeper understanding of this complex disease. Kenneth specializes in taking the technical out of the technical and the medical out of the medical, then rendering the inherently complicated into relatable narratives. Kenneth has been a regular contributor in CMTA newsletters and reports since joining the Advisory Board; and on his website Experts in CMT, he regularly authors articles on topics relevant to the CMT community. To visit Kenneth's website, please visit: Experts in CMT
Kenneth's groundbreaking book, CMT-Associated Genes and Their Related Subtypes: The Definitive Guide, is available as a free eBook download exclusively from the CMTA. This guide represents a comprehensive accounting of the identified subtypes and a comprehensive inclusive listing of all discovered CMT-associated genes, as of its August 2021 publication. This guide discusses the many non-CMT acronym types and subtypes to clarify for everyday CMTers and for practicing clinicians how each are CMT, as determined by the CMT experts. This guide also discusses the limitations of CMT genetic testing as those limitations relate to everyday CMTers who are yet to obtain a genetic confirmation of their CMT, and so much more. To receive a free copy, please visit: CMT-Associated Genes and Their Related Subtypes: The Definitive Guide.
Native to the Detroit metro area, Kenneth still lives in the area with his loving wife and their five children who range in age from 16 to 28 – four daughters, and the youngest is their only son. They also have two amazing grandsons.
---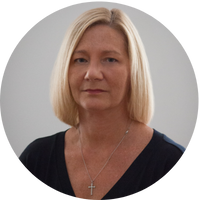 Patricia Sciscione, PhD, RN, CSN-NJ
Patricia Sciscione, PhD, RN, CSN-NJ, is an Assistant Professor in the Marjorie K. Unterberg School of Nursing and Health Studies at Monmouth University in West Long Branch, New Jersey. She obtained her BSN and MSN degrees in Nursing at Kean University in Union, New Jersey and her PhD in Nursing Theory Development and Research from Seton Hall University, South Orange, New Jersey. Her clinical background is in emergency nursing, and she is a certified school nurse in the state of New Jersey. Her research interests include health and caregiving issues of adults with Down syndrome and quality of life of adults living with neuromuscular disorders.
Patricia's father had been diagnosed with "atypical peripheral neuropathy" late in his life and eventually the condition progressed so that he could no longer live alone and had to live with her and her family. After having peripheral neuropathy symptoms herself for several years, and being misdiagnosed and treated for another neuromuscular disorder, her search for a correct diagnosis led her to information about inherited peripheral neuropathies and finally to Dr. Michael Shy at the University of Iowa Center of Excellence where she was finally diagnosed with CMT Type 1b (adult onset). At that time, Patricia joined the CMTA to learn all she could about the condition and follow the progress being made in the STAR program.
In her role as an educator, Patricia is increasing awareness among nursing students and other healthcare professionals about CMT and the implications of living with the condition. As a CMTA Advisory Board member she hopes to help others diagnosed with CMT to find reliable, accurate information about the condition and treatment options.
---

Clark Semmes
Diagnosed with CMT1B in 2014, Clark Semmes wasted no time plunging into fundraising and community development with the CMTA. Shortly after founding the Baltimore, MD CMTA Branch, Clark partnered with long-time Board Member Steve O'Donnell to transform the Swim for the Cure into the Oxford Biathlon. Now in its fourth year, the newly-renamed Funathlon brings the mid-Atlantic CMT community to the tiny town of Oxford, Maryland, for a day of fun, fellowship and delicious crab. In his spare time, Clark enjoys writing. He authored "The Tribe of the Thin Ankles," a book about living with CMT, and is one of the contributors to the CMTA's best-selling "101 Practical Tips for Dealing with CMT."
---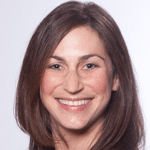 Carly Siskind
Carly Siskind, MS, CGC, is a board-certified genetic counselor at Stanford University and Hospital and Lucile Packard Children's Hospital. Specializing in CMT, she is also project manager of the Inherited Neuropathies Consortium. Before coming to Stanford, Carly worked for four years as a genetic counselor, assistant professor and CMT Clinic coordinator at Wayne State University.
Carly's involvement with the CMTA has included speaking at patient and family conferences, writing articles for the CMTA Report, and servings as a valuable resource for any and all questions related to genetics. She also lends her invaluable expertise to us as a member of the CMTA Advisory Board.
---

Greg Stilwell
Greg Stilwell, DPM, is a board-certified podiatrist diagnosed with CMT 1A, an inventor and a patent holder of the Hozhoni Balance Rail®. He lectures internationally on foot and ankle topics including CMT. He is fluent in both in English and Spanish. He is a published author on MRI results of calf muscle atrophy in CMT and has begun a philanthropic site called CMTHope, which will serve to fund those with CMT who need braces, shoes or orthotics and cannot afford them. Greg is dedicated to helping podiatrists in the US, as well as in Latin America, recognize CMT and become current on various diagnostic and treatment options.

David Tannenbaum
David Tannenbaum, LCSW, is a psychotherapist in New York City who has been in practice for more than 30 years. David specializes in guiding others along their journey of growing emotionally and spiritually through their physical challenges. Of his personal experience with CMT, David says, "My CMT has been my greatest challenge and best teacher in life!" A dedicated supporter of the CMTA, David authors the "Ask David" column in The CMTA Report, where he answers questions about dealing with the social and emotional aspects of having CMT. To direct your questions to David, email them to info@cmtausa.org. David also facilitates the CMTA's Emotional Support Group, which can be found at https://www.cmtausa.org/emotional-support-group/.
---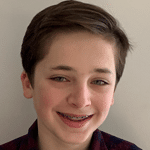 Evan Zeltsar
Evan Zeltsar is a student at Masconomet High School in Boxford, Massachusetts and has CMT1A. Evan is a CMTA Youth Council member, four-time CMTA Camp Footprint attendee and Boston Walk4CMT Ambassador. He is an enthusiastic advocate for youth and adults and tries to show people how to "live with CMT rather than have CMT." He looks to bring the unique perspective of the CMT youth community to the Advisory Board. In his free time, Evan enjoys skiing, playing the clarinet and saxophone in his school bands and annoying his older brother.