DTx Pharma is directly targeting the genetic cause for CMT1A in its upcoming clinical development program.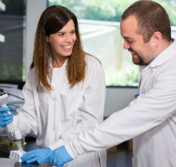 DTx Pharma is developing a treatment for CMT1A that directly targets the cause of the disease – excess peripheral myelin protein 22 (PMP22). PMP22 is a component needed to make the protective covering on nerves, the myelin sheath, that helps properly transmit signals to the muscles. The treatment, DTx-1252, reduces the amount of PMP22 in the myelin-producing cells that are affected in CMT1A. A large body of data from animal models of CMT1A suggests that reducing PMP22 levels allows the myelin sheath to form properly. This leads to improved transmission of nerve signals and restoration of muscle function.
DTx Pharma is conducting the required safety studies in animals to support an Investigational New Drug (IND) application to the FDA. This is needed to allow the testing of DTx-1252 in humans prior to the first human clinical trial, which will test the safety of DTx-1252 and how well it reduces the amount of PMP22 protein. The resulting data will support longer-term studies to evaluate improvement in sensory and motor function in CMT1A patients.
To support development of DTx-1252, the company is working closely with expert sites from the Inherited Neuropathy Consortium (INC) and with patient associations, including the CMTRF and the CMTA. DTx appreciates patient participation in natural history studies, such as the ongoing observational study ACT-CMT (Accelerate Clinical Trials in Charcot-Marie-Tooth Disease), which support the design of clinical trials evaluating DTx-1252.
Katherine Forsey, PhD, the CMTA's Chief Research Officer said "The CMTA was pleased to welcome the team from DTx Pharma to the recent CMTA STAR Advisory Board meeting in Florida, USA. CMTA staff and STAR Advisory Board members heard an update on DTx Pharma's work in CMT1A and we will be working to support their development of DTx-1252. CMT1A is the most common subtype of CMT, affecting approximately 1 in every 5000 people. The exciting progress in the development of DTx-1252 aligns with the CMTA's mission to accelerate the development of new treatments for CMT. We look forward to sharing further updates from DTx with the CMT community."
To receive future updates on CMT research and clinical trials such as this one, please complete a Patients as Partners in Research profile and support the CMTA's mission to develop treatments for CMT.