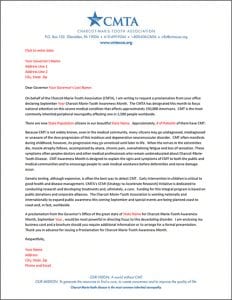 Each year we ask our CMTA Branch Leaders to contact their governors to request that they declare September as Charcot-Marie-Tooth Awareness Month. The more state proclamations we get, the more awareness we create.
Many of you have asked for a template of a letter to send to your governor to ask for his or her support in proclaiming September CMT Awareness Month. For your convenience, the Awareness Month planning committee has developed a letter template that you can download here: [Download not found].
The letter has been placed on letterhead already, and the areas you need to customize, such as the date, your governor's name, address, the population of your state, your name and address etc., are in editable fields shown in red text. When you enter your information in those fields, the text will change color and will print as shown.
To locate contact information for your governor, use the following link: http://www.usa.gov/Contact/Governors.shtml.
Remember to type in the information that is pertinent to your state only. (If you take the population of your state and divide by 2,500, you will have calculated the approximate number of people with CMT in your state.) Please make sure that you replace all the areas in red with the correct information and proofread your letter before you send it. (If you would like it reviewed before you send it out, please email your file to jeana@cmtausa.org.)
If you have any questions please contact me at jeana@cmtausa.org.
We would be very grateful if you would start this process as soon as possible. Yesterday would have been good (LOL). We are trying to really get a concentrated push going to have September officially proclaimed CMT Awareness Month in as many states as possible.
If and when you receive a proclamation, be sure to scan and send me a copy so I can share it with the CMTA community!
Thanks and I look forward to Awareness Month!
Jeana Sweeney
Director of Community Services