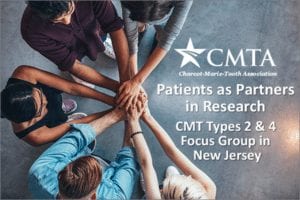 The goal of Patients as Partners in Research is to advance the work of our Strategy to Accelerate Research (STAR) and enroll the patient community in the critical work of furthering the development of treatments, and ultimately a cure, for CMT.
One of the first CMTA Patients as Partners in Research projects was a focus group coordinated in partnership with the Cambridge, Massachusetts-based biopharmaceutical company Acceleron Pharma.
The aim of the focus group was to develop a greater understanding of CMT and gather information to help advance the field and inform the development of new therapies. Topics included specific muscle weaknesses, CMT subtypes, healthcare utilization and current/developing treatment options.
Thanks to the CMTA community members that participated in this focus group on June 16, 2018.