Central New Jersey Walk4CMT
Date/Time
Date(s) - 09/09/2023
9:00 am - 11:00 am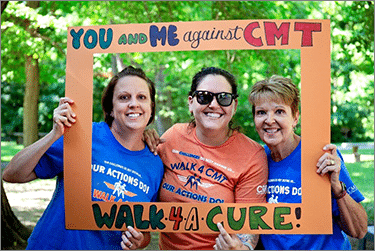 Whether you walk, run or roll, we invite you to join us at the 2023 Central New Jersey Walk4CMT for a nice and enjoyable day. Come out and connect with other people with Charcot-Marie-Tooth (CMT), families, and local companies while fundraising for a cure. Fun for all the whole family!
About Walk 4 CMT
Walk 4 CMT is a volunteer led national fundraising campaign for the Charcot-Marie-Tooth Association. By participating in this year-round campaign, you will be joining thousands of others across the country who want to improve the lives of those living with CMT. Funds raised by the Walk 4 CMT campaign fuel the CMTA to find treatments for CMT and ultimately a cure.
About Charcot-Marie-Tooth Association (CMTA)
The mission of the CMTA is to support the development of drugs to treat CMT, to improve the quality of life for those with CMT, and, ultimately, to find a cure. Our vision is a world without CMT. You can make a difference by participating and raising funds, or by donating generously to any of our participants. Together, with your support, we can reach our fundraising goal.