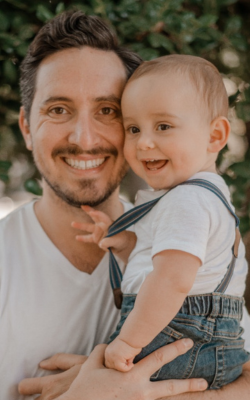 GLENOLDEN, PA, USA, May 10, 2023, EINPresswire.com — Tech entrepreneur David Apple joined the CMTA Board of Directors on April 25, saying he is thrilled to become part of the generation that will find treatments and cures for CMT.
CMT is a progressive disease of the peripheral nerves that causes people to lose the normal use of their feet, legs, arms and hands. As the nerves die, the muscles around them follow suit. Symptoms include foot deformity (very high arched feet) and foot drop (inability to hold foot horizontal); a slapping gait (feet slap on the floor when walking); loss of muscle in the lower legs, leading to skinny calves; numbness in the feet; and difficulty with balance. In rare cases, hearing, vision and breathing may also be affected.
Apple's CMT journey began in January when his 2.5-year-old son Ari was diagnosed with CMT1A, the result of a de novo mutation. As with many members of the CMT community, getting the diagnosis took more than a year of unwavering determination and persistence, scheduling initial appointments and second opinions from over a dozen specialists. None of them suspected that CMT was the cause of Ari's symptoms.
Following Ari's diagnosis, David turned his anguish into action with the dual goal of setting Ari up for success in the short term and working towards a cure for CMT in the mid-term.
CMTA Board President Gilles Bouchard said, "The CMTA Board is excited to welcome David Apple. His enthusiasm and relentless energy, combined with a remarkable business track record, will be a very valuable asset in our fight against CMT."
David, who is French American, lives in San Francisco with his wife and two kids. He spent the last decade of his career in tech, notably as an early employee of two startups—Notion and Typeform—that grew into "unicorns"—companies that reach a valuation of $1 billion. He is currently the chief business officer of ScorePlay, and an active angel investor and start-up advisor.
David has a BS in mechanical engineering from The Johns Hopkins University and an MBA from Imperial College London. He is currently completing an online biotech course to better understand potential treatments and cures for CMT.
The CMTA is the leading patient advocacy organization driving CMT research. Its mission is to develop treatments and a cure for the 3 million people worldwide who live with the disease, while improving the quality of life for patients and their families. The CMTA has invested $23.5 million in the search for a cure and its Strategy to Accelerate Research (STAR) brings world-renowned CMT researchers together with pharmaceutical and biotechnology partners and patients to accelerate scientific breakthroughs. The CMTA also offers community services, including 70 local branches, educational materials and patient conferences.