TURBOMED ORTHOTICS is the newest player in the field of AFO's for patients suffering from foot drop. Turbomed is committed to inventing and creating innovative solutions for people suffering from foot drop. Turbomed is already available in more than 25 countries and more than 10000 units have been sold in the last 30 months!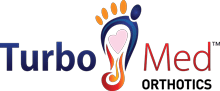 Turbomed created and invented the patented revolutionary FS3000, the FIRST AND ONLY foot drop orthotics which is FULLY DYNAMIC and 100% OUTSIDE of the shoe. NO SKIN CONTACT! This game changer product is not only for active people but for any patient who wants to be comfortable in many types of shoes.
The FS3000 is made from a very durable plastic and we guarantee our product for 2 years! Important features of the FS3000 are its lightweight structure (only 400 grams), ability to transfer from shoe to shoe in less than 10 seconds, it fits very well on sandals, working boots, winter boots. There is absolutely NO weight limits or limitation in your activities. It alloys plantar-flexion of the foot, and professionals only need a small inventory of the product on hand.
TURBOMED products are available through a patient's certified orthotist. Ask to try our TRIAL AFO named the AT3000 (assessment tool). Visit us at www.turbomedorthotics.com and on Facebook.
Finally an AFO that has NO limitations and will go wherever you want to go!
TURBOMED: THINK OUTSIDE THE SHOE!®