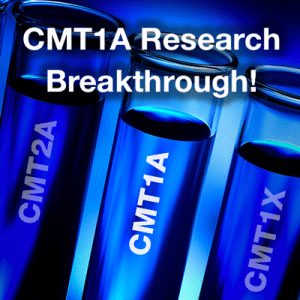 A paper published December 4th on the Journal of Clinical Investigation (JCI) website reveals an exciting potential treatment for patients with Charcot-Marie-Tooth (CMT), the progressive neuromuscular disease that affects more than 2.8 million people worldwide. Scientists at Ionis Pharmaceuticals, in collaboration with the Charcot-Marie-Tooth Association (CMTA), have identified a promising early-stage therapeutic approach with antisense technology for CMT Type 1A (CMT1A), the most common form of the disease, accounting for half of all cases. There is currently no treatment or cure for CMT, making the CMT1A research a significant and hopeful breakthrough for medical researchers, healthcare professionals, patients, and families.
Ionis researchers used their expertise as a world leader in developing antisense oligonucleotides, which precisely target the products of genes that cause diseases. They developed antisense drugs designed to reduce the amount of the PMP22 messenger RNA (mRNA), which in turn reduces production of the PMP22 protein. The researchers then tested the most potent antisense compounds in two different animal models of CMT1A. In both models, weekly injections of the PMP22-targeting antisense drug inhibited the progression of neuropathy, and even improved some aspects of neuropathy during the treatment.
Motivated by the exciting preclinical findings, Ionis has been optimizing antisense drugs against human PMP22 mRNA to identify those that have the most promise for future clinical trials in people with CMT1A.
"We are getting closer to delivering therapies for a disease that, until today, has had no viable treatment options," said Amy Gray, CEO of the Charcot-Marie-Tooth Association. "Thanks to our donors and our partnership with Ionis, we have made an important stride in advancing a potential drug toward the clinic for patients suffering from CMT1A. Our progress demonstrates the importance of CMTA funding and will encourage supporters to believe in a future where people with this disease may be able to walk, run, dance and enjoy life to the fullest."