"My First Walk": An Interview with Jess Diamond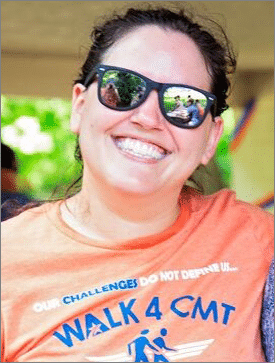 What inspired you to start a Walk 4 CMT? This year was my very first time hosting a Walk 4 CMT. I'd been to a couple of Walks before. When I heard that a bunch of my friends and fellow branch leaders were hosting Walks, I thought: you know what, it's time for me to finally start stepping it up! It's my time. I've got to do it!
How was the process of organizing a Walk? It was fairly easy. First, I messaged Andi, and she gave me instructions for starting a Walk. I began there and just used that. I found a location, I set a date, and then I told the CMTA and they handled making the Facebook event. The hardest thing was finding a spot; everything else kind of had a step-by-step from the CMTA.
Which parts of the Walk did people enjoy most? I like going to the Walks because you get to meet other people with CMT. Walks 4 CMT are definitely made to be accessible for everybody, whether you have a wheelchair, a walker, leg braces … no matter what. It's nothing like a typical race where you're doing your own thing. We were this big group of 50 people walking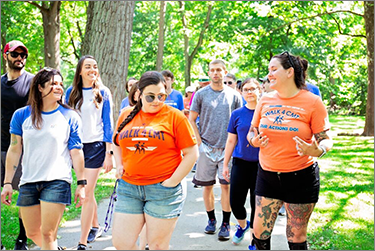 together and you really felt the comradery. People also really enjoyed the 50/50 raffle we did. And the watermelon shark my Dad made was a big hit.
How did your Walk help raise CMT awareness? I think that Walks help spread awareness because there are so many new people who attend. The Walks bring people into the community. My Walk in Columbus somehow managed to spread to people who had never been to any kind of CMT event. At my Walk I had the chance to speak with some grandparents who had brought their grandson.
He'd never been to an event like this before and seeing other people wearing leg braces was influential for him. He loved being there and so did his grandparents. I got to talk with him and tell him about Camp Footprint. You could really tell he was totally interested in being a part of the community for the first time. It's always pretty touching to get to share that experience with someone.
How do you celebrate Awareness Month? What I do for Awareness Month is I share everything that the CMTA posts. And it's so easy! All you have to do is hit a button. I'll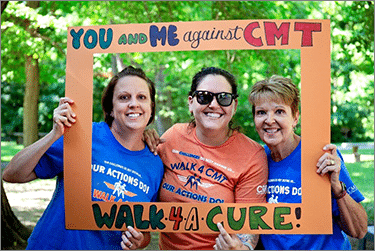 also put up the Awareness Month Facebook Frame, and make a post on Facebook and Instagram. That's really the most important thing, I think – just sharing the information and telling all your friends and family to share it, too. Awareness Month is all about getting the word out.
Do you think you'll host a Walk again next year? I am absolutely 100% going to do one again, now that I know what it entails. I think it went very well for my first year; I had tons of people there. Next year I'm going to strive to add more to it by making baskets for raffles and getting more sponsorships. After doing a Walk, I'm definitely really motivated to help out the CMTA community as much as I can.
What would you say to someone who is considering becoming a Walk Leader? I would say take the plunge and just do it! It's a lot easier than you might think and the CMTA offers a ton of support. I know Andi answered about 100 emails from me. You just have to share with your family and friends. You'll be really grateful you did!