San Francisco Bay Area CMTA Branch Meeting (Virtual) with Guest Speakers
Date/Time
Date(s) - 05/19/2022
7:00 pm - 8:00 pm

Please join us (via ZOOM) for the next meeting of the San Francisco Bay Area CMTA Branch on Thursday, May 19 at 7 pm Pacific Time when we will welcome three guest speakers: Gilles Bouchard/CMTA Board Chair, Elizabeth Ouellette/Board Member and Patient Advocate, and Laurel Richardson/CMTA Director of Community Outreach.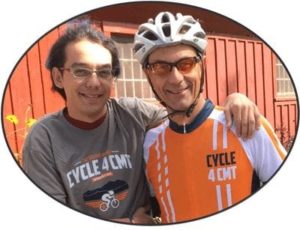 Gilles and Elizabeth will be sharing exciting news about the Cycle (and Walk) 4 CMT event happening again this year in the Bay Area. Laurel will be sharing highlights and updates from the CMTA. It will be a wonderful time to connect with others living with CMT and to welcome new people to the branch. We will also talk about branch news and upcoming branch plans. We hope you will join us for this fun and informative meeting. All are welcome!
RSVP to Laurel Richardson to get the ZOOM link needed for this virtual meeting: Laurel@cmtausa.org.