Raleigh (RTP) CMTA Branch Meeting (Virtual) with Special Guest, Dr. Shy
Date/Time
Date(s) - 10/17/2020
1:30 pm - 2:30 pm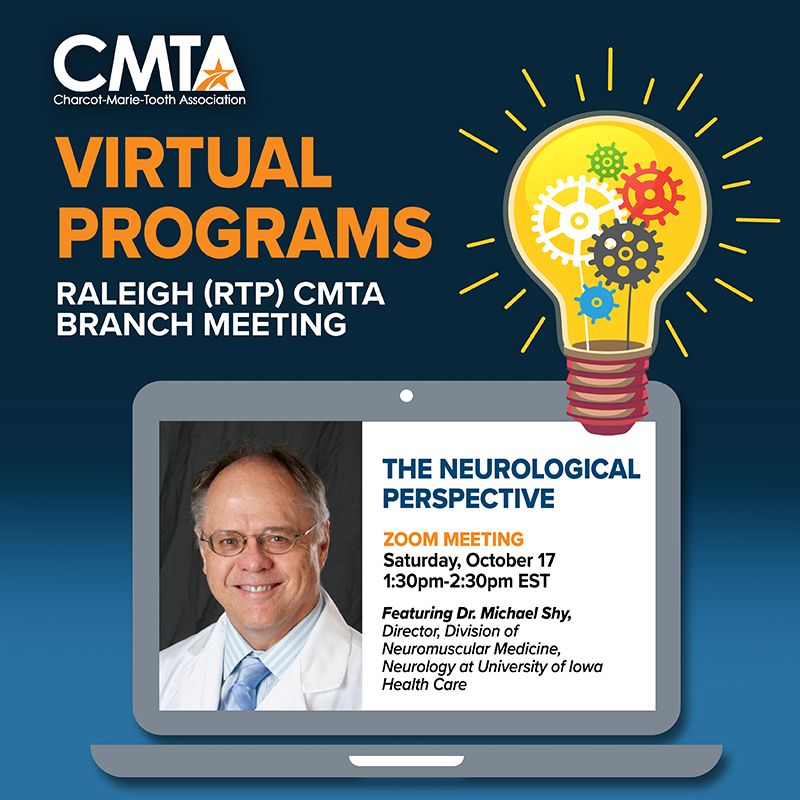 Please join us for the next meeting (via Zoom) of the Raleigh CMTA Branch on Saturday, October 17 at 1:30 pm ET when we will welcome a special guest speaker, Dr. Michael Shy.  Dr. Shy will be talking about CMT from the neurological perspective and will share research information. There will be time for Q & A.  All are welcome and we hope you can join us for this exciting opportunity to hear from Dr. Shy.
RSVP to branch co-leader, Rick Nelson to receive the Zoom link needed for this meeting: hawk8509@gmail.com.
Dr. Shy is the Director, Division of Neuromuscular Medicine, Neurology at the University of Iowa Health Care. He specializes in neuromuscular diseases. He is one of the leading clinicians and scientists researching Charcot-Marie-Tooth disease. He founded the original CMT Center of Excellence and helped to build a multi-disciplinary clinic philosophy. Dr. Shy is very involved in the INC which is the Inherited Neuropathies Consortium (INC), an integrated group of academic medical centers, patient support organizations, and clinical research resources dedicated to conducting clinical research in different forms of CMT and improving the care of patients. Funded by the National Institutes of Health (NIH), the INC is part of the Rare Diseases Clinical Research Network. He also sits on the CMTA Science Advisory Board as well as the CMTA Board of Directors.