October Education Meeting (Virtual): CMT Footcare with Dr. Stilwell
Date/Time
Date(s) - 10/20/2021
8:00 pm - 9:00 pm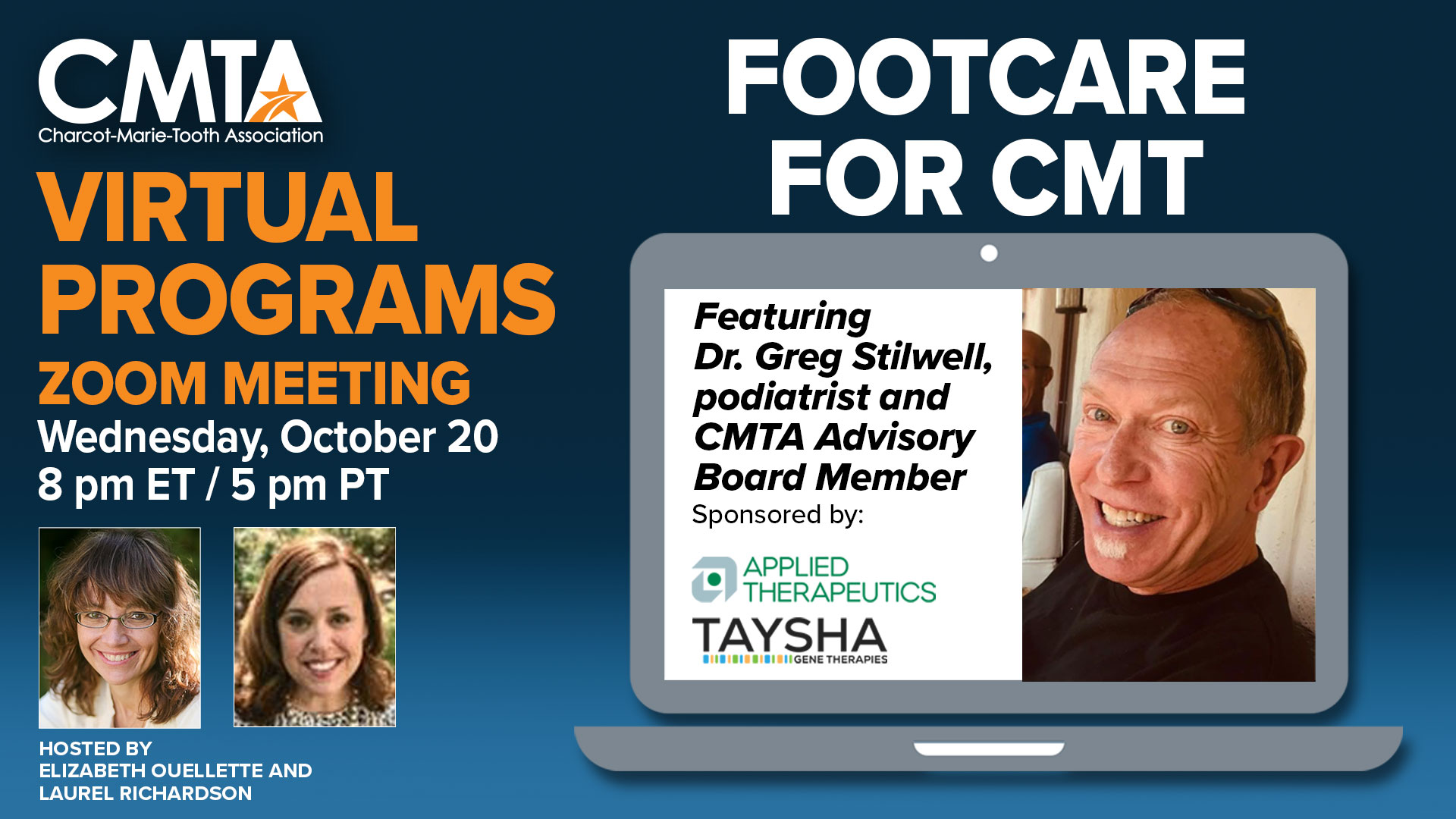 Please join us for our October monthly education meeting (virtual) on Wednesday, October 20 at 8 pm Eastern Time/5 pm Pacific Time when we will welcome podiatrist and CMTA Advisory Board member Dr. Greg Stilwell. Dr. Stilwell will be sharing valuable information on how to care for CMT feet, the importance of wearing supportive orthotics and shoes, tips on dealing with cold feet, and much more. We will have time for Q/A at the end. Registration is required.
Dr. Greg Stilwell is a board-certified podiatrist diagnosed with CMT 1A; an inventor and patent holder of the Stand Strong® arch support, the woman's arch support that adheres directly to the arch of the foot. He lectures internationally on foot and ankle topics including CMT. He is fluent in both in English and Spanish. He is a published author on MRI results of calf muscle atrophy in CMT and has begun a philanthropic site called CMT Hope, which will serve to fund those with CMT who need braces, shoes or orthotics and cannot afford them. Dr. Stilwell is dedicated to helping podiatrists in the US and Latin America Latin recognize CMT and become current on various diagnostic and treatment options. He also sits on the CMTA Advisory Board. He is currently living in Tampa, FL where he is working with the University of South Florida and designing an arch support for the CMT foot.
This meeting will be moderated by Elizabeth Ouellette/patient advocate and CMTA board member and Laurel Richardson/CMTA director of community outreach.
Please send your questions in advance of the meeting to Laurel Richardson: Laurel@cmtausa.org.