New Mexico CMTA Branch Meeting (Virtual): Staying Active with CMT
Date/Time
Date(s) - 07/31/2021
10:00 am - 11:30 am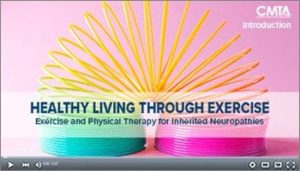 Please join us for the next meeting of the New Mexico CMTA Branch (via Zoom) on Saturday, July 31 at 10:00 a.m. Mountain Time when we will gather to discuss the topic of "Staying Active with CMT." We will also watch an exercise series designed by board member Steve O'Donnell for people who have CMT and varying levels of ability.
The series focuses on the following topics: Introduction, Balance, Endurance, Flexibility, Strength, Walking Balance and Conclusion: Next Steps. It will be a fun and informative meeting. All are welcome – we love to meet new people!
To receive the Zoom link needed to join this meeting, please RSVP to branch leader Gary Shepard: gary@shepdesignassoc.com.