Idaho Walk 4 CMT
Date/Time
Date(s) - 09/12/2021
All Day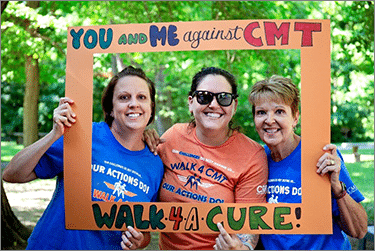 This year the Walk 4 CMT isn't just going virtual again it is going statewide! Grab your friends', neighbors and loved ones and join us for the 1st All Idaho Walk 4 CMT. Register now to show your Idaho pride on September 12, 2021 as we take one step closer to a cure for Charcot Marie Tooth Disease. On September 12, 2021 walk around your neighborhood with your team, family, or members of your CMT community. Don't forget to take pictures and share on social media with the @Walk4CMT. Help us make the Idaho Walk 4 CMT live up to its beauty as the gem state!
About Walk 4 CMT
Walk 4 CMT is a volunteer led national fundraising campaign for the CMTA. By participating in this year-round campaign, you will be joining thousands of others across the country who want to improve the lives of those living with CMT. Funds raised by the Walk 4 CMT campaign fuel the CMTA's mission to find treatments for CMT and ultimately a cure.
About Charcot-Marie-Tooth Association (CMTA)
The mission of the CMTA is to support the development of drugs to treat CMT, to improve the quality of life for those with CMT, and, ultimately, to find a cure. Our vision is a world without CMT.