Education Meeting: Help for Kids at School – Navigating the School System
Date/Time
Date(s) - 08/19/2022
12:00 pm - 1:00 pm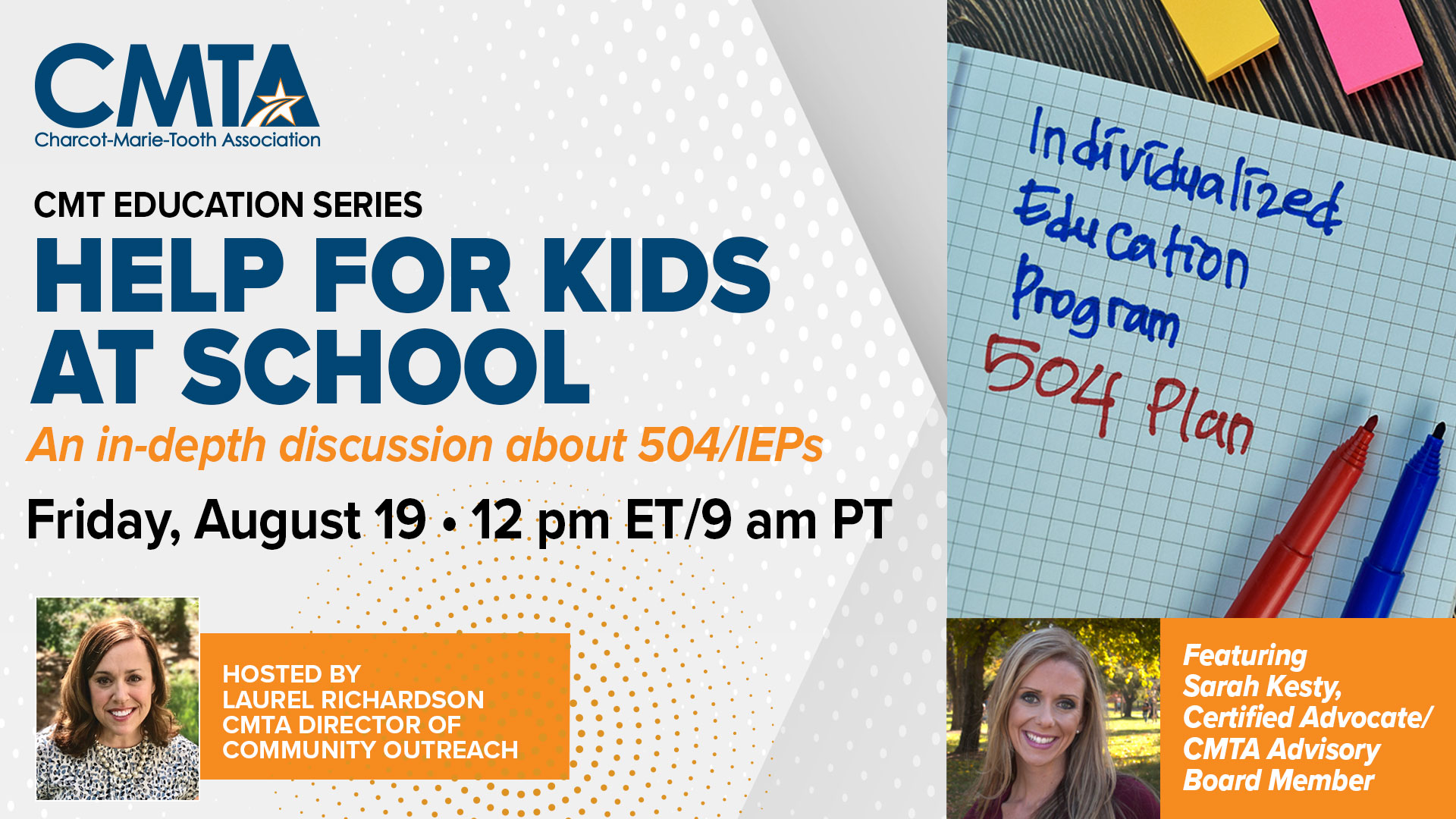 Please join us virtually for our next monthly education meeting on Friday, August 19th at 12:00 p.m. Eastern Tme / 9:00 a.m. Pacific Time when we will welcome CMTA Advisory Board Member and Certified Advocate, Sarah Kesty. Navigating the school system for your child with CMT can be tough and confusing. Learn effective and lower-stress ways to ensure your child's school experience is excellent! As a former student, a veteran teacher, and now an advocate with CMT, Sarah knows what you're going through and how to move forward. You will learn about 504s and IEPs, the best accommodations to address CMT concerns, how to deal with the dreaded PE, and how you and your child can advocate across the school years. You're not alone in this journey. Sarah is here to guide and support you! This meeting will be hosted by Laurel Richardson, CMTA Director of Community Outreach.
About Sarah Kesty: Education and disability consultant, speaker, and author Sarah Kesty helps CMTA members make the best of their children's school experiences. An experienced advocate who has CMT herself, Sarah helps families navigate school support systems with confidence and clarity.
Sarah has been working with individuals who have a wide range of disabilities for almost 20 years. She is a board-certified advocate in Special Education and a 4-time Teacher of the Year. After Sarah earned two teaching credentials, she graduated from Sacramento State University with a master's degree in special education. She has taught children of all ages, from kindergarten through college and has given workshops across the globe.