Denver Virtual WALK 4 CMT
Date/Time
Date(s) - 09/01/2020 - 09/30/2020
All Day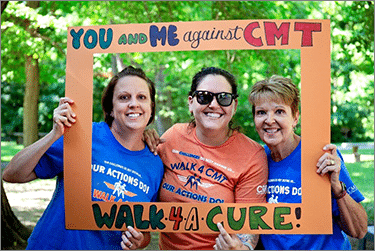 Denver Virtual Walk 4 CMT – Walk Today for Their Tomorrow
For the health and safety of our community, the Denver Walk 4 CMT has gone VIRTUAL this year. Virtual means that anyone, anywhere can walk or donate on or before September 30th.
While we won't be together in person, we can be together in spirit!
A virtual walk is a real walk, but on your terms! Choose how and when you walk (treadmill, park or trail, or around the neighborhood). It's your choice! You also pick the time you start and stop.
You can walk alone or form teams. You can still earn amazing swag! Take creative and fun pictures and video and post your adventures on social media and your walk page and our new Walk 4 CMT Facebook page. Create walk challenges! Just register and raise funds as usual – it's that simple!
Although we are not meeting in person, we are more determined than ever to raise critical funds to keep CMT research moving forward. A cure is our top priority. Let's keep the momentum going!
Attention Walk Participants!! In raising $100 or more through your fundraising page, YOU will be rewarded by mail with a Walk 4 CMT t-shirt!
Have a question? Contact your local Walk Leader, Carol Ris at cajeang@gmail.com  or the CMTA at info@cmtausa.org
Follow our Facebook page for ALL updates and to be a part of our Virtual Event @Denver4CMT and #Walk4CMT