CMT, Take a HIKE!
Date/Time
Date(s) - 09/01/2020 - 10/31/2020
All Day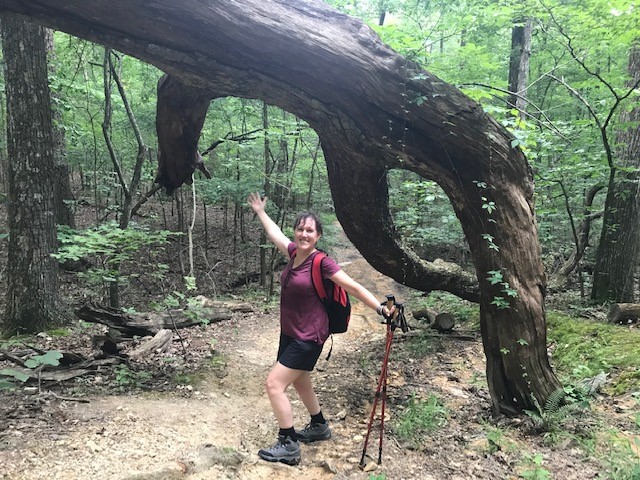 At 18, I was told I had CMT and that I'd be in a wheelchair in 20 years; not what a rebellious teenager wants to hear. I guess I still have a little of that youthful fire. Every time CMT tries to take me down with injuries I fight back in a different way.
I've gone on to do many things: I've had one CMT-related surgery and others that weren't linked to the disease, but had slower healing times because of it. The longest healing time was last year. I was walking from my car to the mailbox when a small rock jumped off a huge mountain and landed on my right foot, causing a lot of damage. After almost nine weeks of the doctor thinking the torn ligament and broken bone were going to heal with physical therapy, he performed surgery. With six weeks in a cast, three weeks in a boot with crutches, then bracing, I was down a total of seven months. The ankle/foot were still healing, but at least I wasn't using crutches when we traveled to Utah for my daughter's wedding.
Life with CMT isn't easy, but we can have fun along the way. A CMTer needs to be adventurous (YES, it's not just for those in extreme sports or jobs), stubborn, rebellious and an advocate for health and wellness. I started learning more about CMT when we got Internet service in 1997. That was 14 years after I was diagnosed.
Between September 1st and October 31st, I'm calling all fellow rebels to join me in raising money for research; so we all can say: CMT, take a HIKE! Joining is easy! Click the create my own fundraising page button, fill in the blanks and hit submit! You will then receive your personal page link so that YOU can ask your family and friends to donate. A fun incentive for you; if you raise $100 or more on your fundraising page, you will receive the 2020 Walk 4 CMT shirt!
You can commit to doing a one-mile, three-mile or five-mile hike, or whatever else suits your fancy. Click here to download your hiking bib!
If this idea does not match your CMTActive lifestyle, then make it your own by getting friends, family and others safely (or virtually) together to do what you do. You can bowl, dance, yoga, play yard games whatever strikes your fancy. It's time for CMT to take a HIKE!!