Correcting the CMT Foot: What You Need To Know
Date/Time
Date(s) - 08/22/2020
4:00 pm - 5:00 pm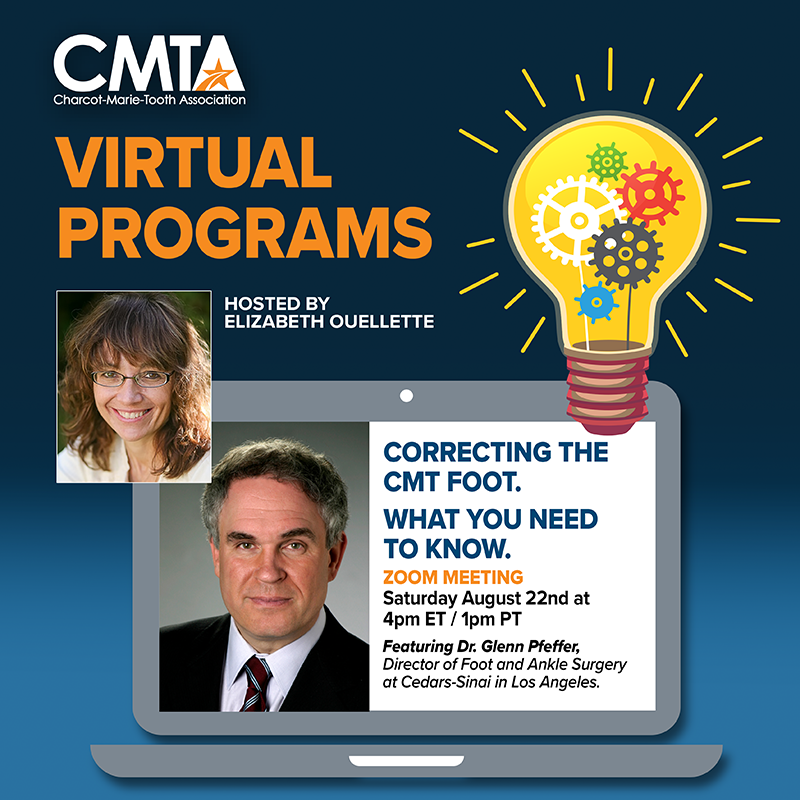 Please join us for the next CMTA Virtual Program event on Saturday, August 22 at 4 pm ET / 1 pm PT when we will welcome renowned orthopedic surgeon Dr. Glenn Pfeffer, the director of the foot and ankle surgery program at Cedars-Sinai in Los Angeles. He's dedicated his life to CMT feet and the people who own them. Surgically correcting the CMT foot, he helps individuals of all ages walk with less discomfort and more stability. Dr. Pfeffer and his colleagues have just published an informative paper about CMT foot surgery, which includes everything you and your medical team need to know about recommended procedures for CMT feet.
CMT advocate Elizabeth Ouellette will be interviewing Dr. Pfeffer, and there will be time for Q & A. Please register now and join us for this very popular virtual event. Not only will you get to know Dr. Pfeffer on a more intimate level—Who is Dr. Pfeffer outside the OR? What are his hobbies? Did someone say magic? And why the art of bonsai?—but you'll also learn more about CMT foot surgery and get some of your most pressing orthopedic questions answered.
Space is limited for this event, so register now to participate.