CMT & Disability/SSDI (Virtual) Education Meeting with Kate Lair
Date/Time
Date(s) - 08/31/2021
8:00 pm - 9:00 pm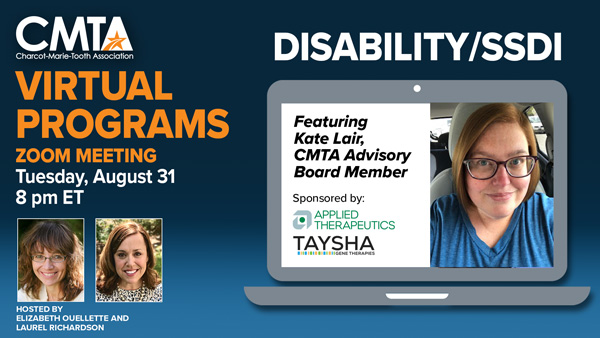 Please join us on Tuesday, August 31 at 8 pm Eastern Time / 5 pm Pacific Time for our next monthly education meeting (on ZOOM) when we will welcome CMTA Advisory Board Member Kate Lair for a robust discussion on CMT & Disability/SSDI. Kate will be sharing helpful information on filing for disability benefits and for building a strong case. There will also be time for Q/A at the end.
This meeting will be moderated by Elizabeth Ouellette and Laurel Richardson and recorded for those who cannot attend. If you have questions for Kate, please send them to Laurel@cmtausa.org by August 29.
This will be an informative meeting with great information being shared about disability/SSDI. We hope you will join us!