Cincinnati CMTA Branch Meeting (Virtual) with Dr. Wang
Date/Time
Date(s) - 04/13/2022
7:00 pm - 8:00 pm

Please join us (via Zoom) for the next meeting of the Cincinnati, OH CMTA Branch on Wednesday, April 13 at 7:00 p.m. Eastern Time when we will welcome neurologist Dr. Wang. Dr. Wang is the clinical director for the new CMTA Center of Excellence at University of Louisville.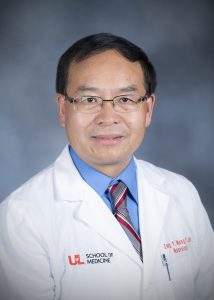 Dr. Wang will be talking with us about the CMT Clinic at Louisville and sharing information about the patient experience when visiting the clinic and what to expect. There will be plenty of time for Q/A. We hope you will join us for this special opportunity to have time with a CMTA Center of Excellence director. All are welcome!
RSVP to branch leader Jill Stuhlmueller to get the ZOOM link needed to join this virtual meeting: jill.stuhlmueller@gmail.com.