Zoom Meeting: Learn About Full-Spectrum Hemp Oil (Synchronicity)
Date/Time
Date(s) - 02/23/2021
8:00 pm - 9:00 pm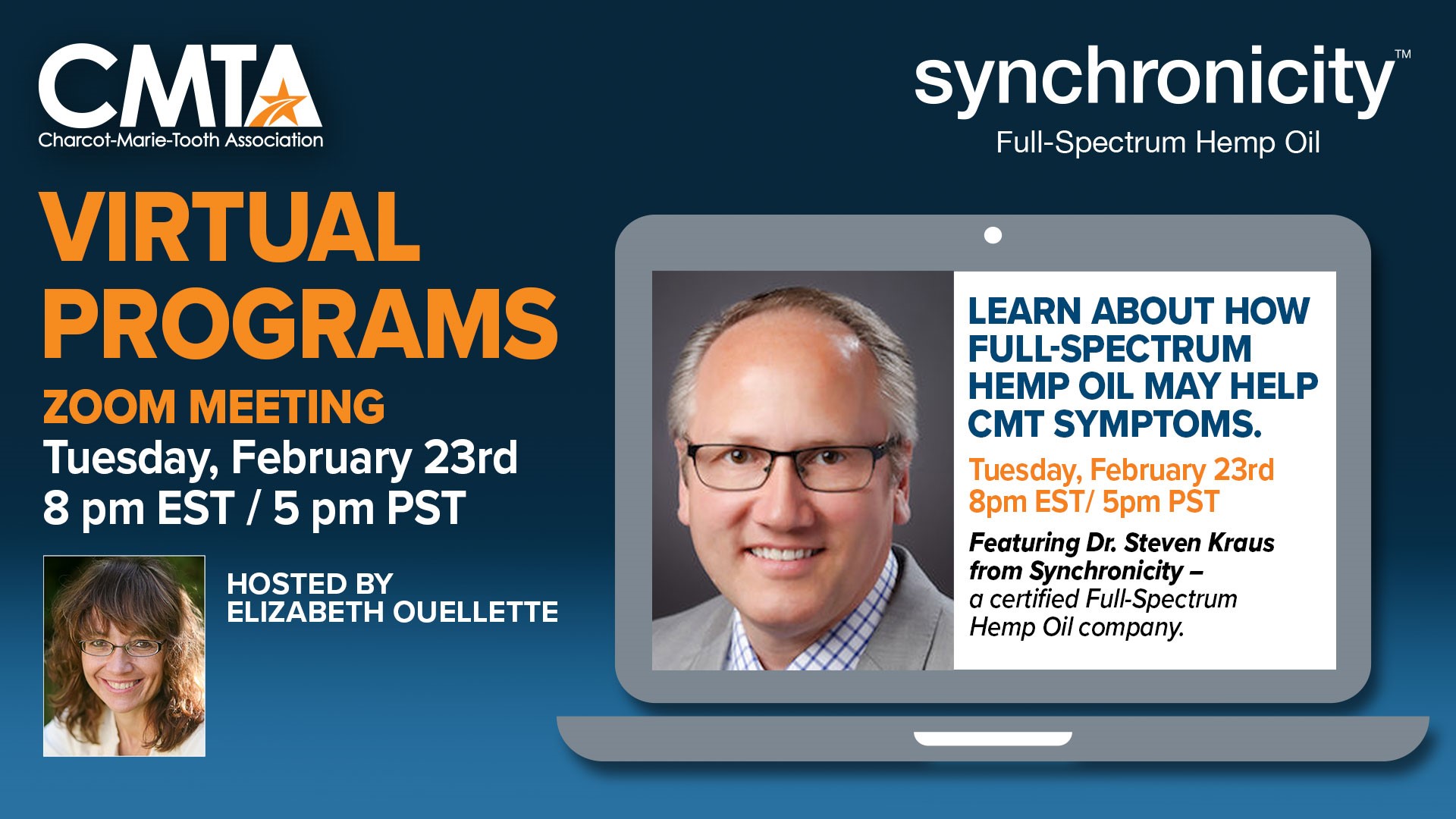 Please join on for our first educational Zoom meeting of 2021 on Tuesday, February 23 at 8:00 p.m. EST/5:00 p.m. PST when CMT advocate Elizabeth Ouellette will interview Dr. Steven Kraus from Synchronicity – a certified Full-Spectrum Hemp Oil company. We will also be joined by CMTA Advisory Board member Greg Stilwell, DPM, who will be sharing his story and positive experience with Synchronicity's products.
According to the team of scientific and medical experts at Synchronicity, its Full-Spectrum Hemp Oil contains not only CBD, but also nearly 100 phytonutrients that may improve sleep, reduce chronic pain, reduce anxiety/depression, treat acne and much more. In fact, all of Synchronicity's products are made using sustainable methods and gentle processing methods in an effort to retain all the nutritional benefits of the whole hemp plant, including CBD.
During this educational meeting, Dr. Steven Kraus will discuss the science behind this therapeutic product, while Dr. Stilwell, a tried and true Synchronicity customer, will talk about his personal journey using Synchronicity's products.
Register NOW for this informative meeting.  Once registered an email will be sent to you with the Zoom link. Please use that link to join the Zoom meeting on February 23.
All attendees who participate in the entire meeting will receive a 30% Synchronicity discount, good for your first website purchase. Learn more about the product line: synchronicityhempoil.com. Synchronicity's products can be shipped to all 50 states.
This will be a highly engaged Q&A discussion with Dr. Krauss and Dr. Stilwell. Please share your questions in advance of the meeting by sending them to Laurel Richardson/CMTA Director of Community Outreach at Laurel@cmtausa.org.